8 AWG Amp Kit for Select Polaris® RZR® Models (Gen-2) RFRZ14-K8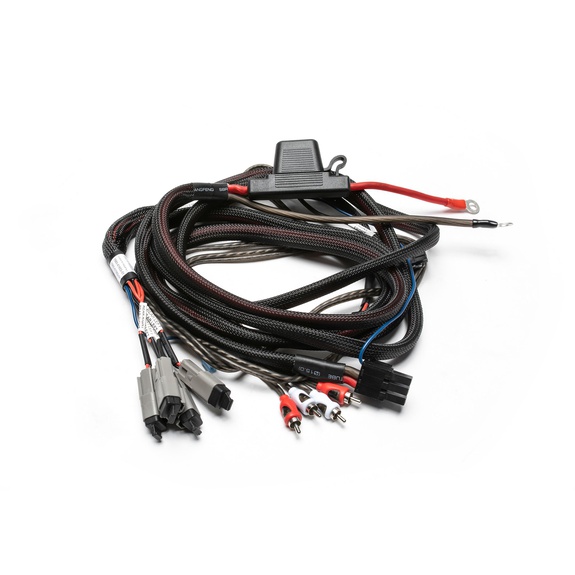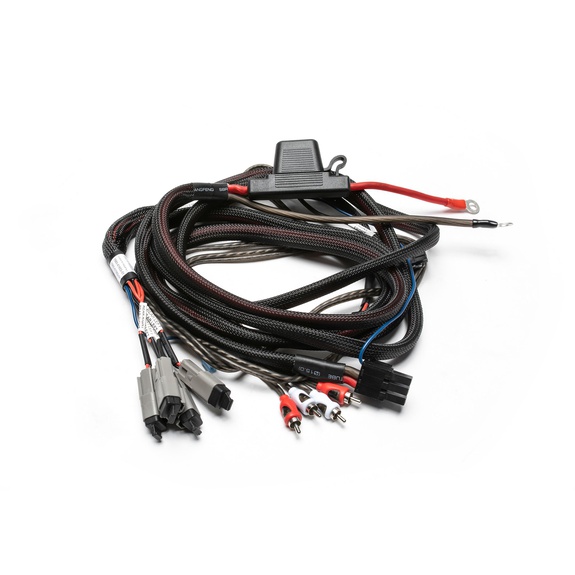 8 AWG Amp Kit for Select Polaris® RZR® Models (Gen-2) RFRZ14-K8
Single amplifier installation kit featuring a wiring harness with 8 gauge power and ground cables and amplifier bracket for select RZR® models. Designed for 2-seat and 4-seat RZR models. Bracket fits underneath dash and attaches to factory mounting points. Includes two brackets for compatibility with 2014-2018 and 2019+ models. No cutting or drilling required.

• This model replaced by RZR14-K8
Read More
Overview
FEATURES AT A GLANCE
8 AWG wiring harness
No drilling or cutting required
Includes 2 amplifier brackets (#1 for 2014-2018 models, #2 for 2019+ models)
Designed for use with 2-seat and 4-seat models
1 Year Warranty
Pre-cut and loomed power/ground and speaker wire harnesses included
Technologies
Specifications
Compatibility
RZR 4-SEAT

MODEL
2014
2015
2016
2017
2018
2019
2020
2021
RZR 4 900 EPS

1,2

✔
✔
✔
✔
✔
✔
✔
✔
RZR S4 1000

2

—
—
—
—
—
✔
✔
✔
RZR XP 4 1000

1,2

✔
✔
✔
✔
✔
✔
✔
✔
RZR XP 4 Turbo

1,2

—
—
✔
✔
✔
✔
✔
✔
RZR XP 4 Turbo S

2

—
—
—
—
—

3

✔
✔
✔
RZR XP 4 Turbo Dynamix Edition

2

—
—
—
—
✔
✔
✔
✔
RZR XP 4 1000 High Lifter

2

✔
✔
✔
✔
✔
✔
✔
✔
RZR 1 & 2-SEAT

MODEL
2014
2015
2016
2017
2018
2019
2020
2021
RZR 900

2

✔
✔
✔
✔
✔
✔
✔
✔
RZR 900 XC

1,2

—
✔
✔
✔
✔
✔
✔
✔
RZR 2 900 EPS

1,2

✔
✔
✔
✔
✔
—
—
—
RZR RS1
—
—
—
—
—
—
—
—
RZR S 900

2

✔
✔
✔
✔
✔
✔
✔
✔
RZR S 1000

1,2

—
—
—
✔
✔
✔
✔
✔
RZR XP 1000

1,2

✔
✔
✔
✔
✔
✔
✔
✔
RZR XP Turbo

1,2

—
—
✔
✔
✔
✔
✔
✔
RZR XP Turbo S

2

—
—
—
—
—

3

✔
✔
✔
RZR XP Turbo Dynamix Edition

2

—
—
—
—
✔
✔
✔
✔
RZR XP 1000 Trails and Rocks

2

—
—
—
—
—
✔
✔
✔
RZR XP 1000 High Lifter

2

✔
✔
✔
✔
✔
✔
✔
✔
RZR PRO XP

MODEL
2014
2015
2016
2017
2018
2019
2020
2021
RZR PRO XP
—
—
—
—
—
—
—

4

—

4

RZR PRO XP Premium
—
—
—
—
—
—
—

4

—

4

RZR PRO XP Ultimate
—
—
—
—
—
—
—

4

—

4

RZR PRO XP 4
—
—
—
—
—
—
—

4

—

4

RZR PRO XP 4 Premium
—
—
—
—
—
—
—

4

—

4

RZR PRO XP 4 Ultimate
—
—
—
—
—
—
—

4

—

4
1 2014-2018 models compatible only with lower pocket assembly supplied with dash kit. Uses larger amp bracket supplied with amp mounting kit.
2 Kits featuring subwoofer not compatible with Polaris® heater option (located where sub enclosure should fit)
3 The 2 seat Turbo S shipped in early 2018, the 4 seat Turbo S shipped in October 2018, however both are considered 2019 models and are compatible.
4 The RZR PRO XP shipped in 2020 featuring a different chassis and body panels, therefore it is not compatible.
Support
Return Authorization
Contact the Authorized Rockford Fosgate Dealer you purchased this product from. If you need further assistance, call 1-800-669-9899 for Rockford Customer Service. You must obtain an RA# (Return Authorization number) to return any product to Rockford Fosgate. You are responsible for shipment of product to Rockford.
Reviews
Be the first to review this product.
Be first to hear about the latest products.
Sign up for product updates.