Power Harley-Davidson® Street Glide® (2014+) & Road Glide® (2015+) Front Audio Kit (Gen-1) HD14-TKIT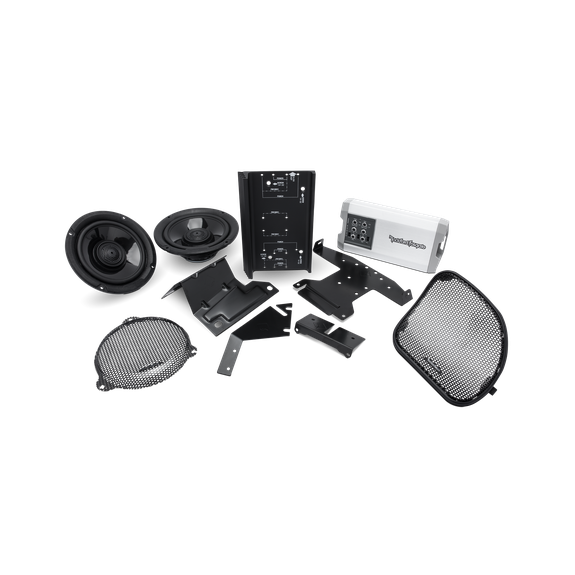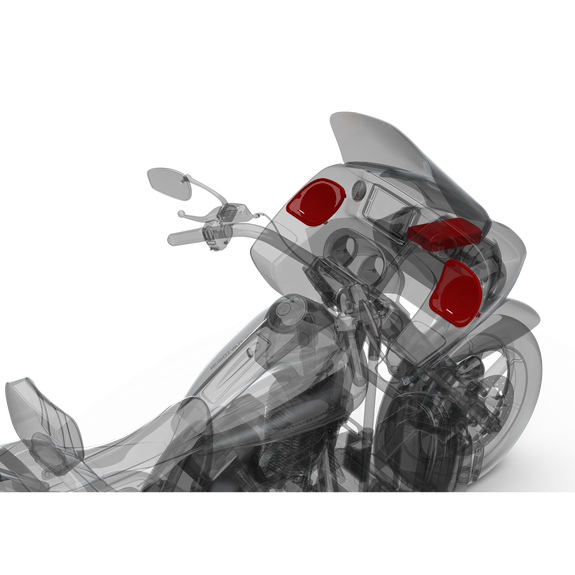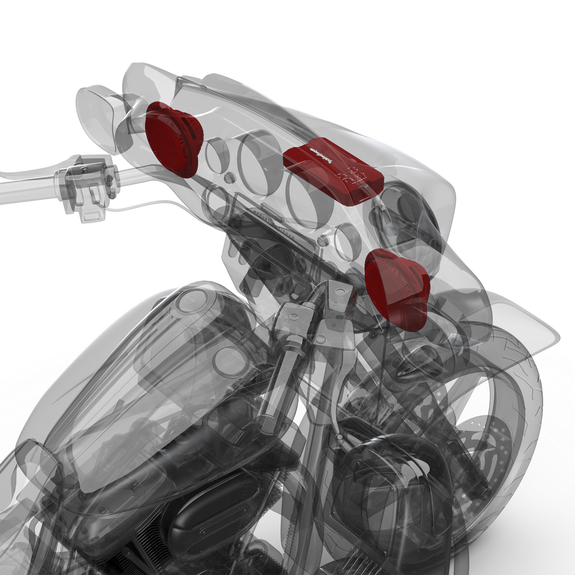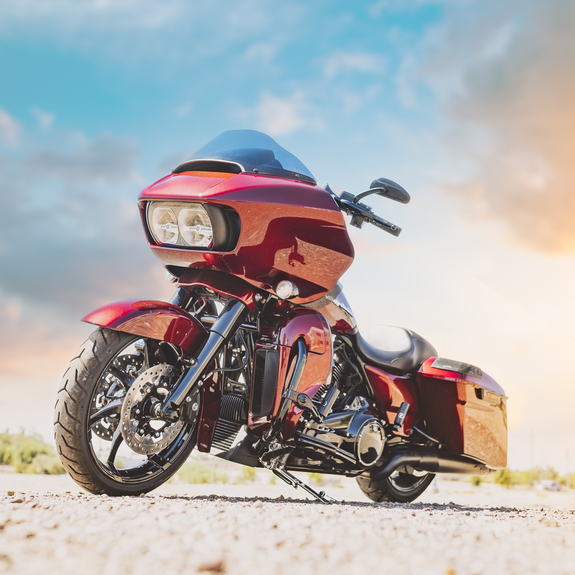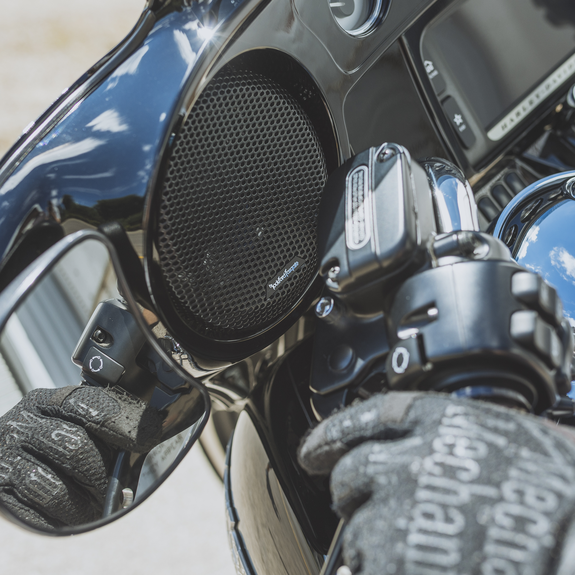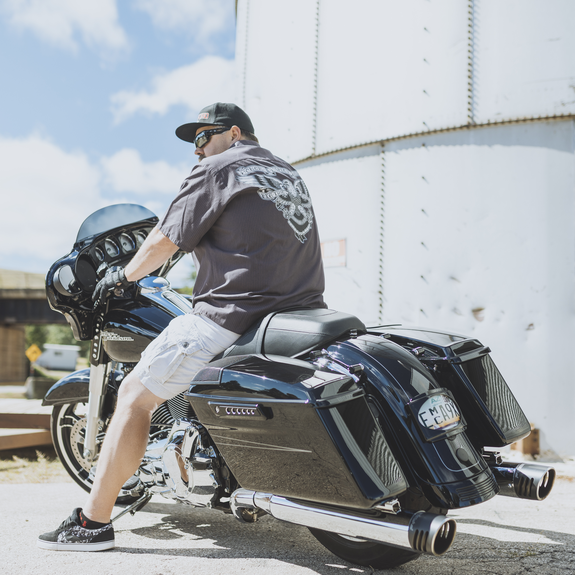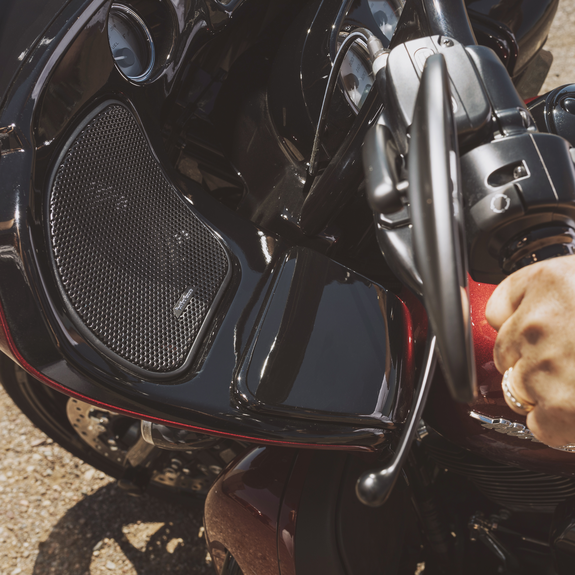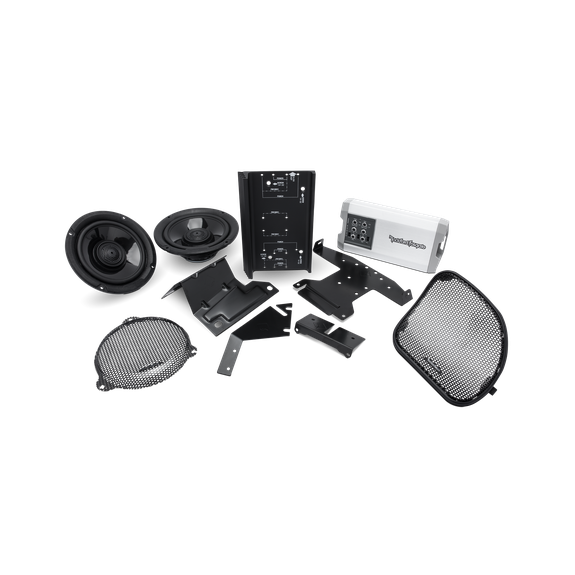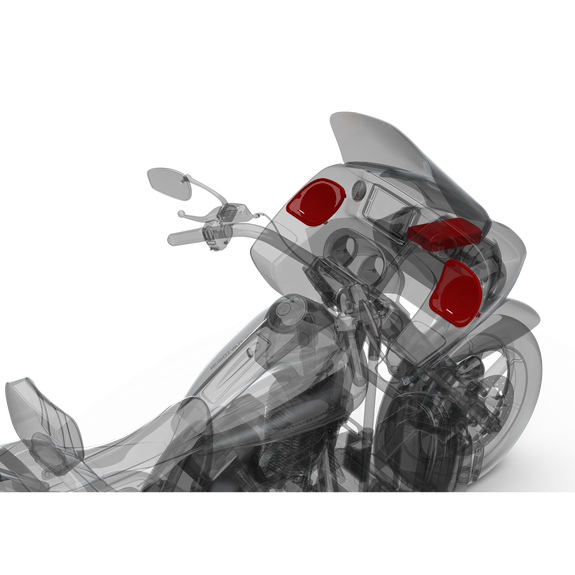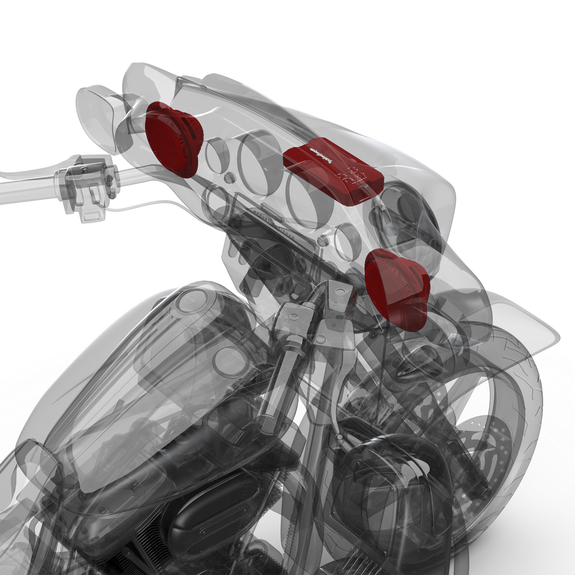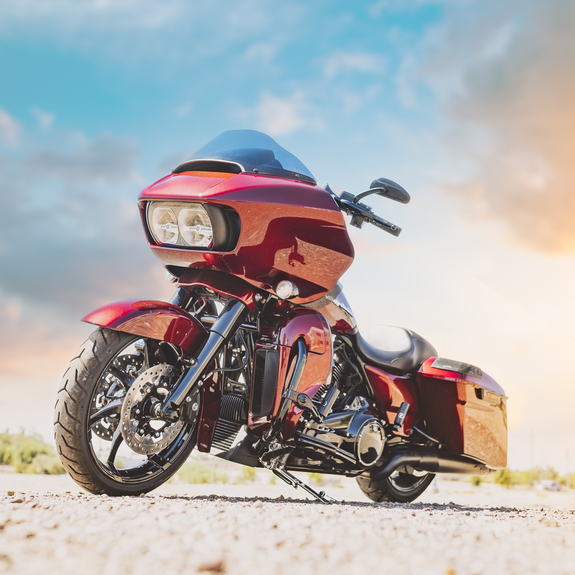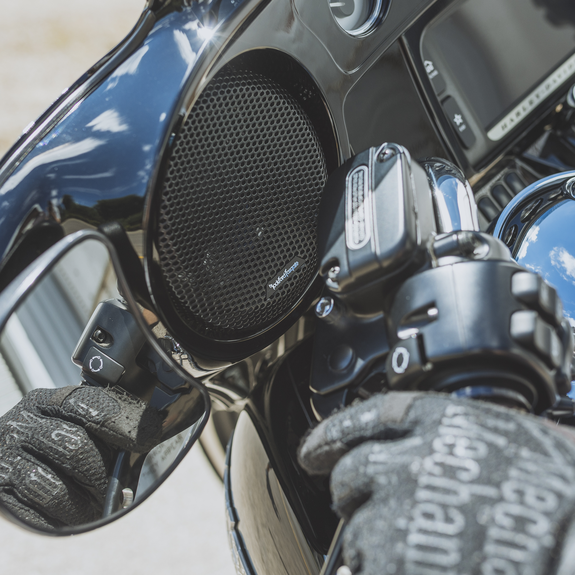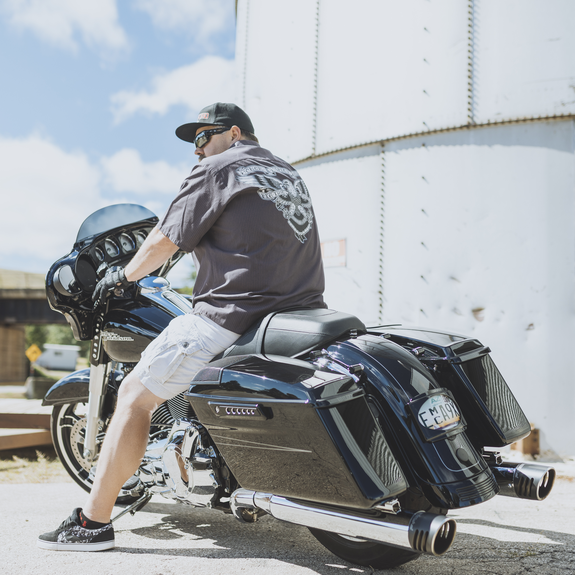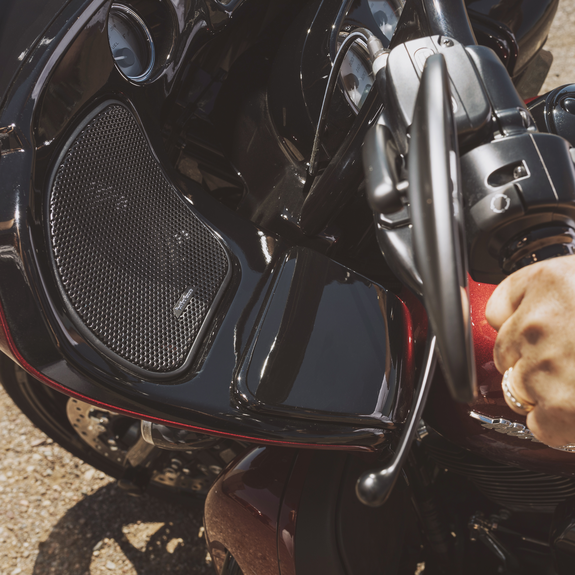 Power Harley-Davidson® Street Glide® (2014+) & Road Glide® (2015+) Front Audio Kit (Gen-1) HD14-TKIT
With the update of the 2014+ Harley-Davidson® motorcycles, audio upgrades can be challenging. To overcome this, we now offer our front audio upgrade featuring a plug and play amplifier wire kit, a Power series small chassis, 4-Channel amplifier and our new 6.5" direct fit speakers. This allows you to quickly upgrade your audio from ho-hum to holy-cow with no modifications or compromises to the bike or its systems. See Specifications tab for compatible models. You will need to flash your factory radio to use this kit. Ready to flash? Dealers that can flash your radio.

• This model replaced by these kits:
• HD14RGSG-STAGE2
• HD14RGSG-STAGE3
Read More
Overview
With the update of the 2014+ Harley-Davidson® motorcycles, audio upgrades can be challenging. To overcome this, we now offer our front audio upgrade featuring a plug & play amplifier wire kit, a Power series small chassis, 4-channel amplifier and our new 6.5" direct fit speakers. This allows you to quickly upgrade your audio from ho-hum to holy-cow with no modifications or compromises to the bike or its systems.

Harley-Davidson®, Road Glide®, and Street Glide® are registered trademarks of Harley-Davidson Motor Company
FEATURES AT A GLANCE
Prewired to accommodate rear Tour-Pak® if available*
Kits bolt to factory attachment points
Direct connect wiring harnesses for Harley-Davidson® models
No drilling or cutting required
Factory Harley-Davidson® radio must be flashed to use this kit
TM400X4ad Power Marine 400 Watt Class-ad 4-Channel Amplifier
TMS65: 6.5" 2-way Element Ready™ speaker with integrated phase-aligned 25 mm tweeter
RFKHD 1998+ Amplifier Mounting Kit
* Tour-Pak® requires purchase of additional TMS65 (2014+)
Technologies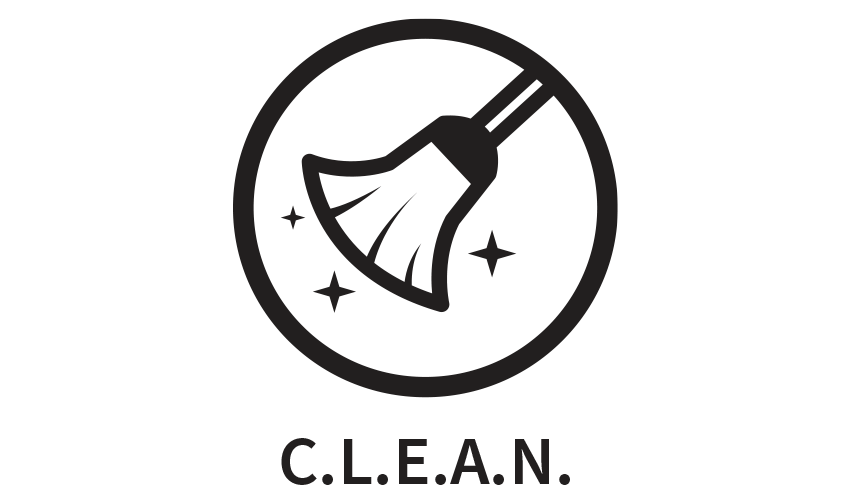 C.L.E.A.N. Set-Up
C.L.E.A.N. (Calibrated Level Eliminates Audible Noise) is a patented circuit with in/out clip LEDs to help ...
Learn more
x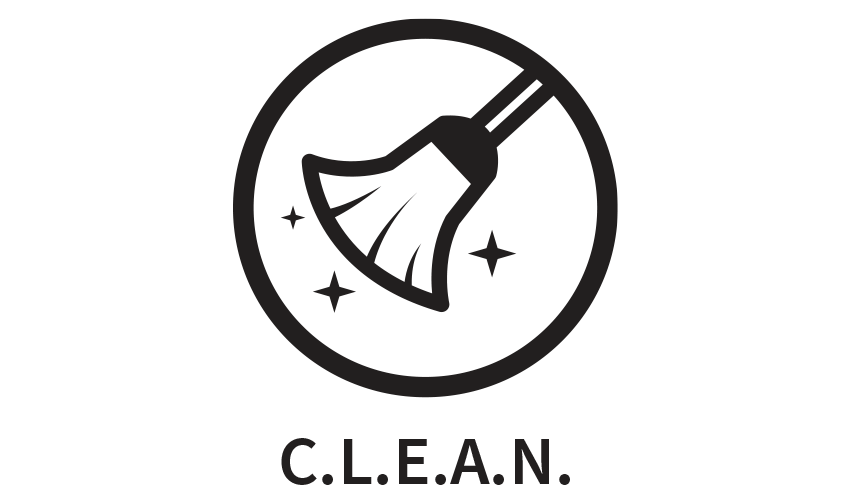 C.L.E.A.N. Set-Up
C.L.E.A.N. (Calibrated Level Eliminates Audible Noise) is a patented circuit with in/out clip LEDs to help match a source to amp and optimize output.
Specifications
Grille/Trim Ring Included
Yes
Included In The Box
(2) TMS65 Speakers
(2) 2014+ Street Glide Grilles
(2) 2015+ Road Glide Grilles
(2) 2014+ Tour-Pak Grilles
(1) TM400X4ad Amplifier
(1) RFKHD Amp Wiring Kit w/ Brackets
(1) Hardware Pack
Compatibility
YEAR
MAKE
MODEL
2014-current
Harley Davidson®
Street Glide®

1,2

2015-current
Harley Davidson®
Road Glide®

1,2
1 Requires factory Harley-Davidson® radio to be flashed. Read more here.
2 Installation on CVO™ and Screaming Eagle™ models are not plug-n-play and will require modification
Support
Return Authorization
Contact the Authorized Rockford Fosgate Dealer you purchased this product from. If you need further assistance, call 1-800-669-9899 for Rockford Customer Service. You must obtain an RA# (Return Authorization number) to return any product to Rockford Fosgate. You are responsible for shipment of product to Rockford.
Accessories
Reviews
Upgrade
I had this kit installed on my 2014 Street Glide, i really love the sound
Not Disappointed!
Installed this kit on a 2017 Road Glide Ultra , and I'm not disappointed!
Take your time, follow the video proved by Rockford Fosgate (support/YouTube), Create an account and ask questions (mine were answered within 24 hours).
I did install the amp with the input facing forward (180° from the video). This proved access to the controls (gain/eq/freq) after removing the fairing and headlamp, but without removing the amp . Routed all power cables in flex-jacket.
Had the radio flashed to flatten the internal equalizer. This was a mistake and not required as you can adjust the gain (i.e. do not flash radio). I needed to reverted back to the original factory setting (via Harley Service Center).
Outstanding audio improvement. Great speakers produced an awesome Kit. All plug and play; DIY'r perfection. You will not be disappointed!
HD Stage > Rockford
We just put this kit in my wife's 2015 SGS. When we purchased her bike, the original owner had done the HD Stage 1 upgrade, which wasn't bad and def an improvement over stock, but this RF kit is phenomenal and absolutely KILLS the HD Stage 1 and Stage2 Boom Audio upgrades! I would not hesitate to recommend this AND the rear bag kit to anyone looking for a plug-and-play upgrade.
Absolutely INCREDIBLE!
These things sound amazing, the complete Fosgate system that the factory Fosgate team installed on my 2018 Street Glide special at Daytona bike week sounds absolutely incredible!!! Top notch sound with this system, can't say enough positive words about the system and the professional installation by the factory Fosgate team at Bike week. 110% HAPPY customer, can't wait for Sturgis to get you guys to install another pair of speakers in my lower fairings.
Finally, a solution...
I wish I could give them 6 stars! My journey started with Boom!.... what a disappointment. Then, I went to Kicker. Same results. Then someone told me about RF. And now....FINALLY! I have something i can rock out to at 80mph.... with a full face helmet on! My amp is rated at 600 watts RMS... so plenty of power! I can't say enough good about their customer service either! I called their 800# on a saturday and got a tech who walked me through the tuning... nice! I'll always be a fan of RF. Everyone asks me about my system! Oh...btw...it was super easy to install and cheaper than Harley!
Be first to hear about the latest products.
Sign up for product updates.