Rockford Fosgate's Proprietary T15kW Design Receives United States Patent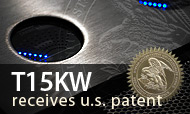 The Department of Commerce's United States Patent and Trademark Office (USPTO) granted, July 3rd 2007, Rockford Corporation patent #7,239,206 for the Ultra Capacitor Audio Amplifier. The technology, inspired and invented by RF's Anthony D' Amore, is the heart-and-soul of the acclaimed flagship Rockford Fosgate T15kW power amplifier. Debuted in 2006, the limited edition amplifier is available through 2007 with a retail price of $24,999.99.
"With this technology in our amplifiers they can put out more power than they consume during musical peaks. This unique feature lessens the demand from the automobiles electrical system yet gives the amplifier all the power it needs to deliver the music with accuracy. This concept was inspired by the defibrillator (a medical device that uses a small battery to deliver a short high energy burst)." announced Anthony D' Amore, Rockford Fosgate's Electrical Engineer.
The patent outlines an amplifier that employs ultracapacitors to accommodate the peak power needs of an electrical system, such as a car audio system. The amplifier operates off of a primary power source for average signal power levels and then uses the ultracapacitors when operating at peak power levels. As such, the amplifier can operate off of a primary power supply that supplies less than peak power required by the amplifier.
"This patent is proof of Rockford Fosgate's commitment to innovation and design, an obligation that are dealers expect and deserve...we are continually exploring new technologies to better lead the way. RF's progressive thinking is what differentiates us and our retailers from the industry norm," states Jake Braaten, Rockford Fosgate's Director of Brand/Product Development.
About Rockford Corporation
Setting the standard for excellence in the audio industry, the Rockford Corporation markets and distributes high-performance audio systems for the car, utv audio, and marine audio aftermarket and OEM market. Headquartered in Tempe, Ariz., Rockford Corporation is a publicly traded company and manufactures or distributes its products under the brand: Rockford Fosgate(R). For more information, please visit: rockfordfosgate.com.