Mercedes S600 Gets Hi-Velocity Treatment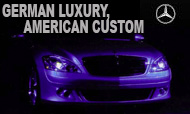 This Mercedes family car utilized the following scope that resulted in a custom install:
1. Don't take up any cabin or trunk space.
2. Don't cut anything.
3. Retain access and use of spare tire.

(1) T215D2 15" POWER T2 2-Ohm DVC Subwoofer
(1) 3Sixty.2 Advanced Interactive Signal Processor & OEM Interface (Patent Pending)
(1) T1500-1bd 1,500 Watt Mono amplifier
(1) T600-4 600 Watt 4-channel amplifier
(1) T400-4 400 Watt 4-channel amplifier

Download PDF to read article.
About Rockford Corporation
Setting the standard for excellence in the audio industry, the Rockford Corporation markets and distributes high-performance audio systems for the car, utv audio, and marine audio aftermarket and OEM market. Headquartered in Tempe, Ariz., Rockford Corporation is a publicly traded company and manufactures or distributes its products under the brand: Rockford Fosgate(R). For more information, please visit: rockfordfosgate.com.