Hawaii's Not Just Beaches As This Mini Demonstrates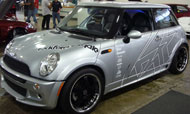 Karl Kawachi @ ProLine, Authorized Rockford Fosgate rep for Hawaii, tapped in-demand Chad Paredes of Extreme Audio Systems and veteran installer Earl Shimabukuro of Island Sound Customs to develop a unique demo vehicle.

Rockford Fosgate System Highlights
• Rockford Fosgate Dead Skin damping material
• Rockford Fosgate 12-gauge speaker cable.
• Rockford Fosgate interconnects.
• CPCC1 50-Farad capacitor.
• Rockford Fosgate power distribution & AGU fuse block.
(1) Power1000 25 to LIFE. 5-channel amplifier
(1) 3Sixty.2 Advanced Interactive Signal Processor & OEM Interface (Patent Pending)
(2) T115D4 15" POWER T1 4-Ohm DVC Subwoofer
(2) T152S 5.25" 2-Way Component System


Download PDF to read entire article.
About Rockford Corporation
Setting the standard for excellence in the audio industry, the Rockford Corporation markets and distributes high-performance audio systems for the car, utv audio, and marine audio aftermarket and OEM market. Headquartered in Tempe, Ariz., Rockford Corporation is a publicly traded company and manufactures or distributes its products under the brand: Rockford Fosgate(R). For more information, please visit: rockfordfosgate.com.