XL-Aufrüstung in Rockfords Power-Serie T1000-4 In Deutsch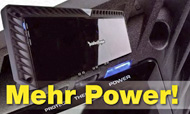 This is a translation from Car & HiFi, a Deutsch publication. According to Car & HiFi magazine the Power Series T1000-4 amplifier is rated the "Best 4-Channel Tested In Years"

"Since 12 years I have tested hundreds of amplifiers, most of them I have already forgotten, The Power T1000-4, will for sure, stay in my memory for a long time. With her clearness and unbelievable power, it will be hard for the future competition to beat this beauty".

Sorry, currently available in Deutsch, but pictures and graphs are a universal language, right?

Download the PDF to view test report and graphs, unless you can read Deutsh, then you can read until your heart's delight.
About Rockford Fosgate
Setting the standard for excellence in the audio industry, Rockford Corporation markets high-performance audio systems under the brand Rockford Fosgate® for the mobile, motorsport, and marine audio aftermarket and OEM market. Headquartered in Tempe, Ariz., Rockford Corporation is a wholly owned subsidiary of Patrick Industries, Inc. (NASDAQ: PATK).