Vive la Rockford Fosgate in Renault Megane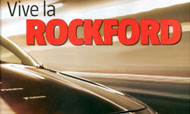 Hot hatches.  There's plenty to choose from.  Keown Smith settled for the less common Renault Megane Sport. Clever Boy. From the front, this car looks like a dragon with fiery orange nostrils and shiny silver teeth hiding the intercooler.  At the back, there's silver-grille treatment too and a big Rockford Fosgate vinyl tatooed on its arse to let you know that the amps behind the rear headrests are not just for show.
Source Unit: Rockford Fosgate
Subwoofers: (2) Rockford Fosgate Punch 200.2
Amplifiers: Rockford Fosgate Punch 400x4
Capacitors: Rockford Fosgate 1.5 Farad
Mids & Tweeters: (2) Rockford Fosgate Punch P2 12"
Wiring: Rockford Fosgate all the way around
About Rockford Corporation
Setting the standard for excellence in the audio industry, the Rockford Corporation markets and distributes high-performance audio systems for the car, utv audio, and marine audio aftermarket and OEM market. Headquartered in Tempe, Ariz., Rockford Corporation is a publicly traded company and manufactures or distributes its products under the brand: Rockford Fosgate(R). For more information, please visit: rockfordfosgate.com.