The Rockford Fosgate 3Sixty.3 Surround Sound / OEM Integration Digital Signal Processor Now Available In Stores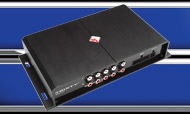 Rockford Fosgate, the industry leader in high-performance car audio systems, announced that its 3Sixty.3 digital signal processor is now available in stores. Functioning as either an OEM integration "black box" or as a complete surround sound DSP, the 8-channel interactive DSP can handle the most complex system design for only $699.95 U.S. MSRP.

"The new 3Sixty.3 interactive signal processor is the perfect solution for those customers who want to add aftermarket equipment to their factory source unit, integrate their mobile devices, or have complete control over their audio signal," said Jake Braaten, Rockford Director of Product development. "With features such as Bluetooth streaming, selectable crossover types, and a USB interface, the versatility is endless."

Additional 3Sixty.3 specs include:
• 8-channel balanced differential RCA inputs
• 248 bands of equalization for OEM integration or aftermarket tuning
• Full phase control
• Time delay
• Interactive graphic user interface controlled via laptop (windows pc)
• Auxiliary RCA inputs
• 8-channel high level input with signal sense turn-on
• Programmable dual function remote (Master Volume, Sub Volume, Sub EQ)
• Digital signal processing with OEM integration capabilities
• Bluetooth connectivity with A2DP wireless audio streaming
• Selectable balanced/unbalanced output
• Auxiliary RCA and optical inputs
• Up to 12dB of output gain (up to 8V out)
• Up to four programmable EQ presets
• Multiple slope and class independent crossovers
• Remote turn-on in/out function with adjustable turn-on delay
• 1 Year Standard Warranty


Specifications and prices subject to change without notice.


About Rockford Corporation
Setting the standard for excellence in the audio industry, the Rockford Corporation markets and distributes high-performance audio systems for the car, utv audio, and marine audio aftermarket and OEM market. Headquartered in Tempe, Ariz., Rockford Corporation is a publicly traded company and manufactures or distributes its products under the brand: Rockford Fosgate(R). For more information, please visit: rockfordfosgate.com.