The New Punch P2 Dual Voice Coil Subwoofers are Ready and Waiting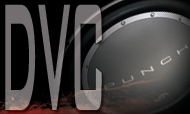 Contact: Kevin Kuenzie 480.517.3051 Release Immediately [email protected] More Options of Punch Tempe, AZ - Brand new for 2006, the Rockford Fosgate Punch Stage 2 Dual Voice Coil woofers. Why add new woofers to Rockford Fosgate's best selling line of performance subwoofers? Why Not! The P2 DVC woofers give the user more amplifier options for that perfect system. Features include Injection molded parabolic polypropylene cone, 2" aluminum voice coil formers, and a 60oz motor structure. They also have power capabilities of 250watts RMS and 500watts Peak. Other options include 4 and 8ohm impedances and are available in 10" and 12" configurations. For more information check out the newly redesigned www.rockfordfosgate.com or run down to your favorite authorized Rockford Fosgate retailer. MSRP : $149.99-$179.99 ~ All Pricing & Specifications are Subject to Change without Notice~ © 2006 Rockford Corporation All Rights Reserved Rockford Fosgate is a division of Rockford Corporation in Tempe, Arizona, a publicly traded company under the NASDAQ stock symbol ROFO. Company websites can be viewed at rockfordfosgate.com and rockfordcorp.com.
About Rockford Fosgate
Setting the standard for excellence in the audio industry, Rockford Corporation markets high-performance audio systems under the brand Rockford Fosgate® for the mobile, motorsport, and marine audio aftermarket and OEM market. Headquartered in Tempe, Ariz., Rockford Corporation is a wholly owned subsidiary of Patrick Industries, Inc. (NASDAQ: PATK).