The future of mobile audio as we know it. Rockford Fosgate's HT Technology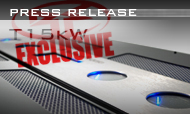 Embargo Date:Release Immediately Contact: Kevin Kuenzie 480.517.3051 [email protected] The future of mobile audio as we know it. Rockford Fosgate's HT Technology Tempe, AZ – Rockford Fosgate's HT technology (Patent Pending) debuts, with what could possibly be the future of mobile amplifier technology and performance as we know it. Being introduced at the 2006 Consumer Electronics show, in our latest creation, is the T15kW 15000 watt amplifier. Yes we said fifteen thousand watt amplifier! What is HT Technology? Well let us explain. Hybrid Technology (HT) HT advantages include unmatched dynamic power capabilities, ability to drive low impedance loads and reduce the strain on a vehicle's electrical system. Unsurpassed sound quality and performance are gained by the use of state of the art components and materials. Typical amplifiers draw 150 amps of current per 1000watts produced, HT Technology draws around 30 amps per 1000watts produced. Imagine a time when a 200watt amplifier draws only 6 amps of current. The HT technology will some day be handed down to Rockford Fosgate mobile amplifiers in the future. The T15kw Built from the most advanced components available today, the T15kw from Rockford Fosgate is the first truly consumer usable 15000 watt mobile amplifier. Delivering 4 channels of A/B full range high fidelity sound and weighing in at a staggering 150 lbs and measuring 35"Lx19"Wx9"D, this is not your every day amplifier but some day the technology that make this amplifier so unique will be. A normal amplifier of this size would draw over 2100 amps of current. If not for the patent pending power supply, this amplifier would not be possible. Other features include 12/dB/octave crossovers at 32-300Hz LP/AP/HP, 2dB/octave infrasonic filter selectable off/-3dB at 22Hz, visual indication of all preamp settings, and a variable fan speed cooling system. Battery voltage does not affect this amplifier's power output delivery. Power output at 11volts –16volts = 500watts RMS x 4 @ 4 ohms, 1000watts RMS x 4 @ 2 ohms, 2000watts RMS x 4 @ 1 ohms and 3750watts RMS x 4 @ 0.5 ohms. ~ All Pricing & Specifications are Subject to Change without Notice~ © 2006 Rockford Corporation All Rights Reserved For more information please visit…. www.rockfordfosgate.com Rockford Fosgate is a division of Rockford Corporation in Tempe, Arizona, a publicly traded company under the NASDAQ stock symbol ROFO. Company websites can be viewed at rockfordfosgate.com and rockfordcorp.com.
About Rockford Fosgate
Setting the standard for excellence in the audio industry, Rockford Corporation markets high-performance audio systems under the brand Rockford Fosgate® for the mobile, motorsport, and marine audio aftermarket and OEM market. Headquartered in Tempe, Ariz., Rockford Corporation is a wholly owned subsidiary of Patrick Industries, Inc. (NASDAQ: PATK).