Team Rockford Fosgate Driver Vaughn Gittin JR Beats the Best D1 Drivers in the World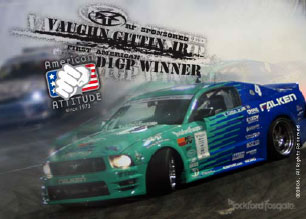 Drifting in the United States will never be the same, after Vaughn Gittin. Jr's victory at the D1 USA vs. Japan event at Irwindale Speedway. Never before had American driver or car made it past the semi finals in a D1 event, but this night there would be no denying the first American victory. As the rounds went down, so did the best drivers from Japan and the US.
The first best 16 round for Gittin had him up against Yasuyuki Kazama the 2005 D1 Champion in his 400hp Nissan S13. After a heated battle and another flawless run by Gittin, he and his Mustang were on the way to their next battle. The next in line was Youichi Imamura the 2003 D1 Champion, in his almost 500hp Mazda FD (Rx7). The battle was again to the wire, with Imamura making a mistake and spinning and Gittin with ice water running thru his body, and performing another flawless run. About this time is when the crowd stopped rooting for their favorite D1 drivers and started chanting USA, USA, USA!
With nothing more than one round to-go Gittin knew what had to be done, keep it smooth and consistent just how he had done all night long. The final battle and the end of the war for Gittin was taking down Tatsuya Sakuma in his Nissan S13. Sakuma a seated full time driver in the Japanese D1 Professional drift series, was not ready for the attack from the American, with 2 perfect runs for Gittin, Sakuma sucomnd to Gittin and accepted his defeat.
About Rockford Fosgate
Setting the standard for excellence in the audio industry, Rockford Corporation markets high-performance audio systems under the brand Rockford Fosgate® for the mobile, motorsport, and marine audio aftermarket and OEM market. Headquartered in Tempe, Ariz., Rockford Corporation is a wholly owned subsidiary of Patrick Industries, Inc. (NASDAQ: PATK).