Speed & Sound South Africa Features Opel Corsa Built By P&P Car Sound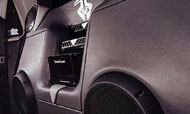 [Download PDF below to read entire article]

Vehicle:
Opel Corsa Bakkie


Installer:
P&P Car Sound
128 Rietfontein Road
Jansenpark
Boksburg 1460
South Africa
Phone: 011 826 1445
Amplifiers:
1x Rockford Fosgate Power
T400-4
400 Watt 4-Channel Amplifier
1x Rockford Fosgate Power
T1500-1bd
1500 Watt Class-bd Constant Power Amplifier
Speakers:
1pr Rockford Fosgate Power
T1675
6.75" 2-Way Full-Range Speaker
1pr Rockford Fosgate Power
T1675-S
6.75" Power Series Component System
Subwoofers:
2x Rockford Fosgate Power
T1D410
10" Power T1 4-Ohm DVC Subwoofer
Capacitor:
1x Rockford Fosgate
RFC10HB
10 farad Hybrid Digital Capacitor
Cables:
1x Lightning Audio 1/0 AWG power/ground cable
3x Rockford Fosgate
RFIT-16
16 Feet Twisted Pair Signal Cable
1x Rockford Fosgate
RFWP12-15
12 AWG Speaker Wire Packaged 15 Foot Black/Silver
1x Rockford Fosgate
RFWP16-30
16 AWG Speaker Wire Packaged 30 Foot Black/Silver
About Rockford Corporation
Setting the standard for excellence in the audio industry, the Rockford Corporation markets and distributes high-performance audio systems for the car, utv audio, and marine audio aftermarket and OEM market. Headquartered in Tempe, Ariz., Rockford Corporation is a publicly traded company and manufactures or distributes its products under the brand: Rockford Fosgate(R). For more information, please visit: rockfordfosgate.com.