Speed and Sound Presents "Sound Quality Presentation"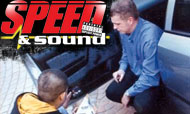 Can you convince car audio judges you have the best installation? Is it installed sately, properly and creatively? Speed & Sound Magazine shows you how to sell your installation to the judge, while showing off your hard work. Keep your presentation short and sweet and don't waste time talking about things that don't help your score. Read the attached article (PDF) and learn how to earn maximum points by polishing your presentation.
About Rockford Corporation
Setting the standard for excellence in the audio industry, the Rockford Corporation markets and distributes high-performance audio systems for the car, utv audio, and marine audio aftermarket and OEM market. Headquartered in Tempe, Ariz., Rockford Corporation is a publicly traded company and manufactures or distributes its products under the brand: Rockford Fosgate(R). For more information, please visit: rockfordfosgate.com.