Speed & Sound Features RF System in Nissan Sentra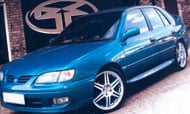 It's not often you find a Nissan Sentra or Sabre featured in a magazine, but Paul in Kempton Park consulted Quantum Sound to source some very specialized Rockford Fosgate equipment.
Source Unit: Rockford Fosgate RFX9320R
Screens: 7-inch dash mounted
Amplifiers: Rockford Fosgate Power 250.1 & 250.2
Subwoofers: (2) ford Fosgate P2 10" DVC  
Capacitors: Rockford Fosgate 1-Farad Digital cap.
Cables: All Rockford Fosgate
Download PDF to read entire article.
About Rockford Fosgate
Setting the standard for excellence in the audio industry, Rockford Corporation markets high-performance audio systems under the brand Rockford Fosgate® for the mobile, motorsport, and marine audio aftermarket and OEM market. Headquartered in Tempe, Ariz., Rockford Corporation is a wholly owned subsidiary of Patrick Industries, Inc. (NASDAQ: PATK).