South Africa Tweaks & Pimps Toyota Tazz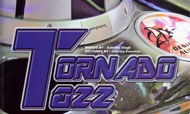 This Toyota's owner, Dini, is a firm FOSGATE fan and is unrelenting in his opinion that Rockford Fosgate is the best in the business (or at least in this country.) His system took both first and second prize in subsequent MAGP competitions with a highest reading of 144dB's and comprises of a Rockford Fosgate RFX9320R head unit, RF P600.1 Monoblock, RFP400 4-channel Amplifiers, RF Power Splits 6.5 inch in front with a RF T1 15 inch dual VC SUB complete a speaker system so LOUD you must have heard it!!! Wiring is Natuarally RF as well with the shole system being created out of fiberglass and sprayed silver with black fade around the edges to add both blend and contrast to the car's QUICKSILVER paintwork. Read the attached PDF for the complete article.
About Rockford Fosgate
Setting the standard for excellence in the audio industry, Rockford Corporation markets high-performance audio systems under the brand Rockford Fosgate® for the mobile, motorsport, and marine audio aftermarket and OEM market. Headquartered in Tempe, Ariz., Rockford Corporation is a wholly owned subsidiary of Patrick Industries, Inc. (NASDAQ: PATK).