Sea Magazine Highlights Rockford Fosgate Marine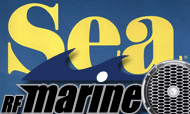 Loud and Proud
Naturally, if you'd like the entire marina or anchorage to share your musical taste, then you'll need some type of amplification and speakers that can handle the output clearly. One option is to match speakers and amps with the brand of the deck....

But some installations require a bit more. For those, consider turning to one of the leaders in mobile speaker technology, Rockford Fosgate. Not to be confused with Jim Rockford, Rockford Fosgate proclaims they are the source for "car audio fanatics." What they've done for the high-end automotive market, they have created in the marine market with the M2 RF Marine line of speakers.

These aren't just coated paper speakers, but rugged units designed to survive and thrive in the wet, soggy, salty marine environment. Components made from aluminum, stainless steel, injection-molded polymers and sealed crossovers are just the beginning. Wire leads are fully silicone insultated and ultra flexible. The terminals are gold plated, and some units come with output terminals for connecting additional tweeters.
About Rockford Corporation
Setting the standard for excellence in the audio industry, the Rockford Corporation markets and distributes high-performance audio systems for the car, utv audio, and marine audio aftermarket and OEM market. Headquartered in Tempe, Ariz., Rockford Corporation is a publicly traded company and manufactures or distributes its products under the brand: Rockford Fosgate(R). For more information, please visit: rockfordfosgate.com.