Rockford Fosgate's New Universal Bluetooth Plug & Play Mobile Adapter Now Shipping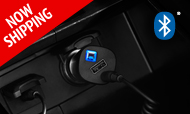 Rockford Fosgate, the industry leader in high-performance car audio systems, is proud to announce that the new RFBTAUX Universal Bluetooth Plug & Play Mobile Adapter is now shipping. The RFBTAUX has an MSRP of $49.99 and will be available at Authorized Rockford Fosgate Dealers.

"The RFBTAUX had a tremendously successful launch at our recent Annual Product Showcase in Las Vegas," explained Jake Braaten, Rockford Corp director of product development. "This Universal Bluetooth Plug & Play Mobile Adapter gives you an easy way to stream media content from your smart phone, tablet, or laptop directly to an AUX input jack. Media content includes your music library and any app that you use (Pandora, Rhapsody, etc). Plug the RFBTAUX in to the radio in your source unit's AUX input. If space is an issue, you could even use a 1/8-inch to RCA adapter and connect the RFBTAUX directly to the RCA input of Rockford's amplifiers without using a source unit."

The RFBTAUX easily pairs with Bluetooth devices, streams audio to any source unit within a car, truck, boat, motorcycle, or Side x Side that has an AUX input. It also has a USB port for charging a phone, MP3 player, tablet or other media device (USB cable not included), and the Auto Connect feature has an audible chime that tells you when you're connected.

Go to the RFBTAUX Universal Bluetooth Audio Adapter product page.

For more information on Rockford Corporation, please visit www.rockfordcorp.com.
About Rockford Corporation
Setting the standard for excellence in the audio industry, the Rockford Corporation markets and distributes high-performance audio systems for the car, utv audio, and marine audio aftermarket and OEM market. Headquartered in Tempe, Ariz., Rockford Corporation is a publicly traded company and manufactures or distributes its products under the brand: Rockford Fosgate(R). For more information, please visit: rockfordfosgate.com.