Rockford Fosgate's New Line Of Class D Punch Amplifiers Begin Hitting Retailers Nationwide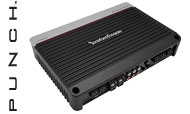 Rockford Fosgate, the industry leader in high-performance car audio systems, announced that its new line of Punch Full Range Class D and Mono Class D amplifiers are starting to hit retailers nationwide.  The new line of Punch Amplifiers will be available in 1,000 watt mono (P1000X1D), 500 or 1,000 watt 4 channel (P500X4D or P1000X4D) and 1,000 watt multi channel (P1000X5D) configurations.  The amplifiers will carry an MSRP beginning at $579.99 to $799.99, depending on product features.
"We build products that fit into every audiophile's lifestyle," commented Theresa Hephner, senior director, product development and marketing. "Our new line of Class D amplifiers is engineered to deliver a cleaner, crisper audio experience at virtually any listening level. Our P1000X1D and P500X4D Punch models are hitting stores just in time for the holidays and would make a great gift for enthusiasts looking to improve their factory-installed audio system."
Rockford Fosgate's new Punch Full Range Class D / Mono Class D amplifiers use a high-efficiency amplifier design for reduced current consumption from the charging system. This design enables the amplifiers to be used in all vehicles, including those where space is limited.  The amplifiers' top mount controls makes set-up easy and installation more flexible. In addition, the Rockford Punch amplifiers perform at low impedances, which mean they can be used with a variety of speaker and subwoofer configurations.
Rockford Fosgate's P1000X1D and P500X4D are currently available in retailers nationwide.  The P1000X4D and P1000X5D models are expected to hit stores in Q1 2012.  The new Class D amplifiers are the perfect complement to Rockford's current PUNCH family of audio products, which include a complete mix of full-range speakers with P1 coaxials and components, as well as various subwoofer solutions such as the P1, P2, P3 and P3 shallow. 
"Above all, our new Class D Punch amplifiers stick to the characteristics of the Rockford Fosgate brand, which means a lot to our customers," added Hephner.  "They not only take installation convenience to a new level, but deliver an incredible listening experience. Enthusiasts are going to be blown away by the performance they can push out of these Punch amps."
For additional specs and pricing on the Rockford Fosgate Punch line of products, including the new Punch FRD amplifiers, visit: www.rockfordfosgate.com/products
About Rockford Fosgate
Setting the standard for excellence in the audio industry, Rockford Corporation markets high-performance audio systems under the brand Rockford Fosgate® for the mobile, motorsport, and marine audio aftermarket and OEM market. Headquartered in Tempe, Ariz., Rockford Corporation is a wholly owned subsidiary of Patrick Industries, Inc. (NASDAQ: PATK).