Rockford Fosgate's 2007 PUNCH Series Amplifiers Deliver An Undefendable Knockout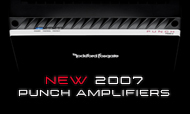 Rockford Fosgate, designer and manufacturer of high performance car audio has engineered and delivered, under covert conditions, the most comprehensive, and exciting line of PUNCH amplifiers ever. Rockford Fosgate will unveil the NEW amplifier series at the 2007 MERA Knowledgefest (booth #101).
Continuing with Rockford Fosgates "don't show it unless you can ship it" policy from CES we're pleased to unveil the NEW 2007 PUNCH amplifiers to our dealers. These radically new amplifiers showcase our patent pending DTM (Dynamic Thermal Management) and MEHSA3 designs which have reduced the amplifiers overall footprint by up to 40%. This powerful combination exceeds sound quality and performance standards and simultaneously provides dealers with a viable solution for today's restrictive automotive environments," states Jake Braaten, Rockford Fosgate's Director of Brand/Product Development.
Features for the 2007 Rockford Fosgate PUNCH series amplifiers include:
• Dynamic Thermal Management (DTM)
- Reduces thermal shut down under harsh conditions
• Unregulated Power Supply
- More power in, equals more power out
• Onboard PUNCH EQ2
- Optimizes the acoustical environment in the vehicle
• MEHSA3
- Allows the amplifier to play louder longer
• Captive 4AWG Power Connectors
- Easy, secure connections everytime
• Variable Crossover
- 40 - 400Hz with 12dB per octave slopes (class bd amps 40-250Hz)
• CEA-2006 Compliant
2 CH 
Dimensions
Power Rating
MSRP

P200-2
H 2.2" x W 7.7" x L 8.9"50x2 @ 4 ohms
100x2 @ 2 ohms
200x1 @ 4 ohm bridged$249.99P400-2H 2.2" x W 7.7" x L 10.3"100x2 @ 4 ohms
200x2 @ 2 ohms
400x1 @ 4 ohm bridged$349.99P500-2H 2.2" x W 7.7" x L 13"125x2 @ 4 ohms
250x2 @ 2 ohms
500x1 @ 4 ohm bridged$449.99
4 CH

Dimensions
Power Rating
MSRP

P400-4

H 2.2" x W 7.7" x L 13"

50x4 @ 4 ohms

100x4 @ 2 ohms


200x2 @ 4 ohm bridged
$399.99
Mono
Dimensions
Power Rating
MSRP

P300-1

H 2.2" x W 7.7" x L 8.9"

150x1 @ 4 ohms

300x1 @ 2 ohms

$299.99

P1000-1bd

H 2.2" x W 7.7" x L 14.4"

250x1 @ 4 ohms

500x1 @ 2 ohms


1000x1 @ 1 ohm

$649.99
Specifications and features subject to change without notice.
About Rockford Corporation
Setting the standard for excellence in the audio industry, the Rockford Corporation markets and distributes high-performance audio systems for the car, utv audio, and marine audio aftermarket and OEM market. Headquartered in Tempe, Ariz., Rockford Corporation is a publicly traded company and manufactures or distributes its products under the brand: Rockford Fosgate(R). For more information, please visit: rockfordfosgate.com.