Rockford Fosgate's 2007 POWER Series Amplifiers To Set An Industry Standard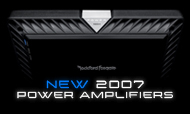 Tempe, Ariz. - Rockford Fosgate, designer and manufacturer of high performance car audio has engineered and delivered the most comprehensive, and exciting line of car audio amplifiers ever. Rockford Fosgate will unveil the NEW amplifier series at the 2007 CES (booth #1809).
"We are very pleased to introduce a new series of POWER amplifiers that is up to 40% smaller than previous models and still displays excellent thermal times, low impedance stabiltiy and high output power...all of which are characteristics of Rockford Fosgate amplifiers," states Jake Braaten, Rockford Fosgate's Director of Brand/Product Development.
Features for the 2007 Rockford Fosgate POWER series amplifiers include:
Dynamic Thermal Management (DTM)

- Reduces thermal shut down under harsh conditions
• Differential Inputs

- Highest rejection against engine noise
• Onboard PUNCH EQ2

- Optimizes the acoustical environment in the vehicle
• MEHSA3

- Allows the amplifier to play louder longer
• TO-247 Mosfets

- Generates more power while producing less heat
• Variable Crossover

- 40Hz - 400Hz with 24dB per octave slopes (class bd amps 40-250Hz)
• CEA-2006 Compliant
2 CH

Description

Power Rating

Price

T400-2

H 2.14" x W 8.14" x L 11.41"

120x2 @ 4 ohms
200x2 @ 2 ohms
400x1 @ 4 ohm bridged

$399.99

T600-2

H 2.14" x W 8.14" x L 13.66"

200x2 @ 4 ohms
300x2 @ 2 ohms
600x1 @ 4 ohm bridged

$649.99
4 CH

Description

 Power Rating

Price

T400-4

H 2.14" x W 8.14" x L 13.66"

60x4 @ 4 ohms
100x4 @ 2 ohms
200x2 @ 4 ohm bridged

$449.99

T600-4

H 2.14" x W 8.14" x L 14.91"

100x4 @ 4 ohms
150x4 @ 2 ohms
300x2 @ 4 ohm bridged

$699.99
MONO

Description

 Power Rating

Price

T500-1bd

H 2.14" x W 8.14" x L 11.41"

250x1 @ 4 ohms
400x1 @ 2 ohms
500x1 @ 1 ohm

$599.99

T1500-1bd

H 2.14" x W 8.14" x L 14.91"

500x1 @ 4 ohms
1000x1 @ 2 ohms
1500x1 @ 1 ohm

$899.99
EDITORS NOTES:
Product Photographs are located on the 2007 Rockford Fosgate Press Assets DVD. Silhouettes: (PHOTOGRAPHY/PRODUCT/T400-4 or T500-1bd or T15001-bd) Campaign: (PHOTOGRAPHY/CAMPAIGN IMAGERY/POWER/T4002_SideAngle.tif or T6004_TopAngle.tif)
Rockford Fosgate is a division of Rockford Corporation in Tempe, Ariz., a publicly traded company under the NASDAQ stock symbol ROFO. Company websites can be viewed at rockfordfosgate.com and rockfordcorp.com.
Specifications and features subject to change without notice.
About Rockford Fosgate
Setting the standard for excellence in the audio industry, Rockford Corporation markets high-performance audio systems under the brand Rockford Fosgate® for the mobile, motorsport, and marine audio aftermarket and OEM market. Headquartered in Tempe, Ariz., Rockford Corporation is a wholly owned subsidiary of Patrick Industries, Inc. (NASDAQ: PATK).