ROCKFORD FOSGATE UPGRADES WEBSITE; LAUNCHES NEW MOBILE WEBSITE AND MOBILE APP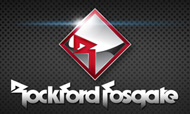 Rockford Fosgate, the industry leader in high-performance car audio systems, is proud to announce that it has updated its website, as well as launched a new compatible enhanced mobile website and a new free mobile app. All are now live.
"The first place people go to research a product is the brand's website, so that brand's reputation and first impression is based highly upon the quality of its website," explained Eric Russell, Rockford WebWizard. "Rockford Fosgate's website now more appropriately conveys the design and feature set of our products using oversized photos, multiple product views, and a more intuitive interface with application and category filters."
The fresh, new www.rockfordfosgate.com features easy-to-use navigation and rich media content on product pages with the addition of 360 degree views and videos. Visitors can view showcase systems of athletes, ce¬lebrities, and car audio fanatics, all while they enjoy faster page load times thanks to dynamic site architecture. And now, everyone can access an enhanced version of the Rockford Fosgate mobile website (m.rockfordfosgate.com) on Android, Apple, and Blackberry smartphones, as well as a new iPhone App on their iPhone/iTouch/iPad.
"The site auto-detects your browser and routes you to the traditional or mobile site," added Brian Edstrom, Rockford web designer. "The mobile-friendly site is fast and compatible with any brand of smart-phone. The RFTECH iPhone App gives dealers and hobbyists access to our proprietary woofer configuration tools, from inside the vehicle."
Additional information and features of the iPhone App include:
Name: RFTECH, Version 1.0
Compatibility; iPhone/iTouch/iPad with iOS 4.0+
URL: http://itunes.apple.com/us/app/rftech/id486866817?ls=1&mt=8
WiringWizard; learn how to properly wire woofers to your amplifier
BoxWizard; calculate available air space inside woofer enclo¬sures
BoxAdvisor; find recom¬mended enclosures for woofers. Dis¬plays sealed, vented or infinite baffle designs
Dealer Locator; find Rockford Fosgate deal¬ers near you. Search in USA, Canada, & worldwide
SPL Meter; allows customers to compare the Sound Pres¬sure Level of smaller systems
Settings; easily switch units of mea¬sure between Metric (Liters/mm) and Imperial (cu.ft./inches).
For more information on Rockford Corporation, please visit www.rockfordcorp.com.
About Rockford Fosgate
Setting the standard for excellence in the audio industry, Rockford Corporation markets high-performance audio systems under the brand Rockford Fosgate® for the mobile, motorsport, and marine audio aftermarket and OEM market. Headquartered in Tempe, Ariz., Rockford Corporation is a wholly owned subsidiary of Patrick Industries, Inc. (NASDAQ: PATK).