Rockford Fosgate to Exhibit at 2016 Sand Sports Super Show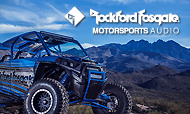 Rockford Fosgate (www.rockfordfosgate.com), the industry leader in high-performance audio systems, is proud to announce that it will exhibit its new Element-Ready audio solutions during the 2016 Sand Sports Super Show, which is being held from Sept. 16-18 at The OC Fair & Event Center in Costa Mesa, Calif., booth # FF502B.

"Whether on sand, dirt, or the open road, our marine-grade, high-efficient audio solutions have proven to be perfect for side-by-side UTVs and off-road vehicles," said Jake Braaten, Rockford Fosgate V.P. of Product Development and Engineering. "We are focused on providing multiple solutions that are great sounding, extremely durable and install easily while meeting the demands of our customers."

Rockford Fosgate's Element Ready, marine grade standard accounts for the devastating effects of the outdoor environment and takes extreme measures to ensure optimum performance. Rockford Fosgate's Element Ready audio solutions are tested and protected against dust, UV, water, corrosion, and feature Stainless hardware, making them the optimum choice for the outdoor enthusiast.
About Rockford Corporation
Setting the standard for excellence in the audio industry, the Rockford Corporation markets and distributes high-performance audio systems for the car, utv audio, and marine audio aftermarket and OEM market. Headquartered in Tempe, Ariz., Rockford Corporation is a publicly traded company and manufactures or distributes its products under the brand: Rockford Fosgate(R). For more information, please visit: rockfordfosgate.com.