ROCKFORD FOSGATE TO BE EXCLUSIVE CAR AUDIO SPONSOR OF 2012 VANS WARPED TOUR®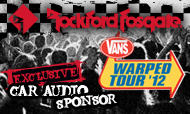 Rockford Fosgate, the industry leader in high-performance car audio systems, is proud to announce that it has partnered with the Vans Warped Tour® for its 18th year in 2012. Rockford will participate in the tour's 41 dates in 41 cities across America and Canada, beginning in June.
"The demographic both the Vans Warped Tour and Rockford Fosgate attract are one in the same," said Bill Jackson, Rockford president and CEO. "We couldn't be more excited to be a 2012 partner and bring the Rockford Fosgate culture on tour with great bands and activities that mirror the Rockford Fosgate fanatic's lifestyle."
In 2011, the Vans Warped Tour attracted more than 550,000 concert goers, with 89 percent of those attending the tour faithfully for two or more years. Ages ranging from 15-25 account for more than 90 percent of tour's attendees, with an average age of 18. More than 100 bands will perform during the 2012 tour, including both newcomers as well as high profile artists. The Vans Warped Tour is announcing five new artists for the 2012 run every Wednesday via the official website www.vanswarpedtour.com from now until the end of March.
"We are excited to have Rockford Fosgate on board," said tour founder Kevin Lyman. "The Vans Warped Tour is all about music and the lifestyle our attendees bring to each and every show. Rockford Fosgate is a leader for a reason…they make great car audio products and they're incredibly passionate about what they do which is a perfect fit for the Warped Tour."
During each stop on the tour, concert attendees can take a ride in the Pressure Chamber, Rockford Fosgate's sound lab demonstration vehicle. Once inside, they will experience the music played through the company's legendary amplifiers, subwoofers, and speakers.
For more information on Rockford Corporation, please visit www.rockfordcorp.com.
About Rockford Fosgate
Setting the standard for excellence in the audio industry, Rockford Corporation markets high-performance audio systems under the brand Rockford Fosgate® for the mobile, motorsport, and marine audio aftermarket and OEM market. Headquartered in Tempe, Ariz., Rockford Corporation is a wholly owned subsidiary of Patrick Industries, Inc. (NASDAQ: PATK).