Rockford Fosgate SoundLab Rocks 2013 Vans Warped Tour®; Prize and Ticket Promotion Now Open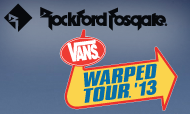 Rockford Fosgate, the industry leader in high-performance car audio systems, is proud to announce it has once again partnered with Vans Warped Tour® for the 2013 summer concert and event series. Rockford Fosgate is also proud to announce that due to the extreme popularity of last year's tour promotion, that the famed RF SoundLab will be present at each of the Vans Warped Tour® venues, which kicks of June 15 in Seattle and wraps up August 4 in Houston, and that it will once again will be offering free tickets and prizes to lucky participants.

"Based on the success of last year's partnership with Vans Warped Tour®, we couldn't wait to get back out on the road with them again this year," said Bill Jackson, Rockford president and CEO. "In 2013, Rockford Fosgate Fanatics attending the tour events will have a chance to experience our famous SoundLab and win tickets and prizes, as well. We are, once again, proud to partner with the Vans Warped Tour, and excited to bring the Rockford Fosgate audio experience to concert goers at all of the tour's stops across the country."

Participants can enter the promotion between April 15 and July 15 in order to win tickets to attend a VANS Warped Tour concert event in their area*. Winners will be chosen at random, and prizes include two general admission tickets, one Rockford Fosgate / VANS Warped Tour T-Shirt (medium), and one Rockford Fosgate / VANS Warped Tour T-Shirt (large). Winners of the VANS Warped Tour Ticket Giveaway will be posted on Rockford Fosgate's Facebook, Twitter, Instagram, Tumblrand/or web pages.

And that's not all. While at each venue, concert goers who survive the SoundLab's "Pressure Chamber" have a chance to instantly win either a pair of Punch 6.5-inch full-range speakers ($100 value), a custom Rockford Tour shirt, or discounts on Punch Wear.

To enter and for more information, participants should visit www.rockfordfosgate.com/promotions.

"The Rockford Fosgate 'SoundLab' is the ultimate high-performance audio demo vehicle," added Jackson. "Based on a long wheelbase Mercedes Benz Sprinter chassis, SoundLab features a mind-blowing 10,000 watt PRESSURE CHAMBER that gives participants the opportunity to experience high-performance audio like they never have before."

*Vans Warped Tour® events in Canada are exempt from this promotion.
About Rockford Corporation
Setting the standard for excellence in the audio industry, the Rockford Corporation markets and distributes high-performance audio systems for the car, utv audio, and marine audio aftermarket and OEM market. Headquartered in Tempe, Ariz., Rockford Corporation is a publicly traded company and manufactures or distributes its products under the brand: Rockford Fosgate(R). For more information, please visit: rockfordfosgate.com.