Rockford Fosgate Ships New Rear Audio Bag Lid Kits for Harley Davidson® Models 1998-2013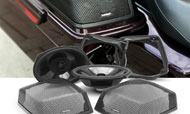 Rockford Fosgate has the answer for those who have been thinking of adding rear speakers to Harley-Davidson® bags but didn't want to buy a new set of bag lids.

Rockford Fosgate (www.rockfordfosgate.com), the industry leader in high-performance audio solutions, is proud to announce that the new bag lid audio kits designed for Harley Davidson® motorcycles model years 1998 – 2013 (TMS69BL9813: $499.99) are now available.

"Our new retrofit kit allows addition of rear speakers on your existing factory bag lids by utilizing our easy-to-use cutting guide and mounting system, thus eliminating the need to paint and color match," explained Jake Braaten, Rockford's V.P. of Product Development & Engineering. "And the best part is that it will easily integrate into an existing Rockford Fosgate audio system, such as the HD9813RG-TKIT or HD9813SG-TKIT. The kit is a custom designed to retrofit on 1998 to 2013 Harley-Davidson® Road Glide® or Street Glide® motorcycles with hard-shell bags and includes all hardware and integrated grille assemblies."

The new Element Ready, purpose-built bag lid audio kit solution has been designed for the often harsh environments motorcycles are subject to out on the open road and in all kinds of weather. As such, features and specifications of theTMS69BL9813 include:
• Ultra‐High Temperature Glass Re‐Inforced Polymer Frame
• Direct Connect wiring harness
• Painted stamped steel grill with ASA plastic frame for UV protection
• Sandwich clamping gasket design for environmental seal
• Includes custom cut out guide
• Includes TMS69 Power Series Element Ready 6 x 9 inch, 100/200 Watt (RMS/Peak) full range speakers
• Includes all installation hardware and accessories
• Patent Pending
• Plug-N-Play operation not compatible with Tour-Pak® speakers (contact support)
More Info
•
TMS69BL9813 Product Details
Anyone who loves riding on the open road knows how harsh the elements can be, whether it be road noise, dirt, dust, moisture, and even temperature. To that end, Rockford Fosgate has also further developed element-ready amplifiers, speakers, and installation accessories that are specifically designed to fit on a motorcycle, but powerful and durable enough to deliver our acclaimed sonic signature while withstanding the torture of such a tight and demanding environment.
Harley-Davidson®, Road Glide®, and Street Glide® are registered trademarks of Harley-Davidson Motor Company
About Rockford Corporation
Setting the standard for excellence in the audio industry, the Rockford Corporation markets and distributes high-performance audio systems for the car, utv audio, and marine audio aftermarket and OEM market. Headquartered in Tempe, Ariz., Rockford Corporation is a publicly traded company and manufactures or distributes its products under the brand: Rockford Fosgate(R). For more information, please visit: rockfordfosgate.com.