Rockford Fosgate Rocks Pikes Peak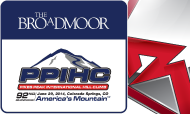 Rockford Fosgate (
www.rockfordfosgate.com/motorsports
), the industry leader in high-performance audio systems, is proud to announce that it recently joined forces with Mitsubishi Motors North America for the 92nd Annual Broadmoor Pikes Peak International Hill Climb in Colorado Springs, CO on June 29. Mitsubishi Motors entered two electric vehicles in the race, and Rockford Fosgate's famous mini SoundLab rocked the event's Fan Fest pre-race celebration on June 27.
More than 35,000 people converged on downtown Colorado Springs for Fan Fest. During the five hour event, the mini SoundLab gave 30 second shows non-stop, as lines formed around the Mitsubishi booth with fans eager to experience the Rockford Fosgate pressure chamber.
"We were very excited to be a part of such a famous and incredibly popular event as the Broadmoor Pikes Peak International Hill Climb alongside our partner Mitsubishi Motors," said Theresa Anthony, Rockford Fosgate V.P. of Marketing & New Product Development. "Local Colorado Mitsubishi dealers had vehicles on-hand with factory-equipped Rockford Fosgate sound systems for fans to audition. In addition to our top-shelf OEM offering through Mitsubishi, our mini SoundLab, which literally blows away consumers with our aftermarket products, was a huge hit as it showcased the excitement that Rockford Fosgate has to offer to the people that came out for Pikes Peak Fan Fest."
According to ppihc.com, first competed in 1916, the Pikes Peak International Hill Climb, also known as the "Race to the Clouds", is the second oldest motor sports race in America and a long-standing tradition in Colorado Springs and the Pikes Peak region. It entails an automobile and motorcycle race on a 12.42 mile course with 156 turns ending at the 14,115 foot summit of Pikes Peak.
This year, Mitsubishi Motors' driver Greg Tracy won the Electric Modified Division with a time of 9 min 8.19 seconds, breaking the previous record by more than 38 seconds, and he finished in second place overall. In addition, Tracy became the first racer to complete the course in less than 10 minutes in both the motorcycle and automotive divisions.
About the mini SoundLab The Rockford Fosgate "mini SoundLab" is a high performance demo vehicle built on a 2012 Ford Transit Connect wheelbase. The mini SoundLab features a 3,600 Watt PRESSURE CHAMBER with 12 speakers, including six Punch 15-inch subwoofers, and gives participants the opportunity to experience the full PUNCH of Rockford Fosgate car audio equipment.
About Rockford Fosgate
Setting the standard for excellence in the audio industry, Rockford Corporation markets high-performance audio systems under the brand Rockford Fosgate® for the mobile, motorsport, and marine audio aftermarket and OEM market. Headquartered in Tempe, Ariz., Rockford Corporation is a wholly owned subsidiary of Patrick Industries, Inc. (NASDAQ: PATK).