Rockford Fosgate Presents the 3SIXTY° Interactive Signal Processor.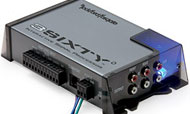 From the minds that developed and delivered such legendary cutting edge products as Rockford Fosgate Symmetry and class BD amplifier technology comes a product that all car audio enthusiasts, from hobbyist to audiophile, have been anticipating. The Rockford Fosgate 3SIXTY° Interactive Signal Processor. 3SIXTY° delivers unprecedented control and flexibility to aftermarket and OEM sound systems with up to 153 bands of equalization and signal manipulation. The 3SIXTY° Interactive Signal Processor also allows for aftermarket car audio equipment to be integrated into existing OEM environments through artificial intelligence. In fact, the artificial intelligence in 3SIXTY° will automatically correct, and if needed sum, the OEM inadequacies and overcome prior factory equalizer settings by restoring a flat frequency response and deliver an additional auxiliary input for other in-car entertainment devices such as gaming and MP3 players. This process is done while maintaining factory features such as navigation, steering wheel controls, and all other features the vehicle was originally delivered with. Rockford Fosgate's 3SIXTY° Interactive Signal Processor is available in 2 platforms, 3SIXTY.1 and 3SIXTY.2. The 3SIXTY.1 optimizes equalization for OEM integration, a perfect addition to any car audio sound system without the need to modify your existing OEM Source unit. The upgraded 3SIXTY.2 is loaded with additional features and allows for the ultimate in system control and performance. Offering a fully interactive touch screen wireless solution, via an optional Bluetooth® enabled PALM OS®, (sold separately) gives the user the ability to tune the sound system in real-time anywhere within the vehicle. Rockford Fosgate's 3SIXTY° signal processor technology, design, and function make system integration and signal manipulation seamless. The DSP based processor combines many common bulky audio components into one simple and easy to use design. 3SIXTY.1 and 3SIXTY.2 are simply improving the way aftermarket products are integrated with both the OEM environment and aftermarket systems while providing a world class audio tuning experience. Pricing: 3SIXTY.1 MSRP: $399.99 3SIXTY.2 MSRP: $699.99 ~ All Pricing & Specifications are Subject to Change without Notice~ © 2006 Rockford Corporation All Rights Reserved
About Rockford Fosgate
Setting the standard for excellence in the audio industry, Rockford Corporation markets high-performance audio systems under the brand Rockford Fosgate® for the mobile, motorsport, and marine audio aftermarket and OEM market. Headquartered in Tempe, Ariz., Rockford Corporation is a wholly owned subsidiary of Patrick Industries, Inc. (NASDAQ: PATK).