Rockford Fosgate Power T1000X5ad Compact 5-Channel Amplifier Now Available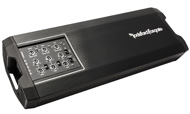 Rockford Fosgate (
www.rockfordfosgate.com
), the industry leader in high-performance audio systems, is proud to announce that the new Power Series T1000X5ad 5-Channel amplifier is now available with an MSRP of $999.99. This high-efficient amplifier, combined with a compact chassis, makes it perfect for hybrid, electric, small cars, trucks, motorcycles, and side-by-side UTVs.
"The compact T1000X5ad is built on our proprietary Class ad platform designed to deliver unprecedented sound quality with superior power efficiency in a small chassis," explained Jake Braaten, Rockford's V.P. of Product Development & Engineering. "Combined with our Constant Power technology, this amplifier can easily exceed its rated power by up to 25 percent additional output per channel."
The amplifier's top mounted controls include Rockford's C.L.E.A.N. level setting system, integrated high/ low pass crossovers, input channel configuration switches, and a Punch EQ boost circuit. Upgraded input RCA connectors allow for high or low level input signals to be used through the differential input circuit which eliminates incoming noise and can provide a remote out signal when using high level inputs. Dual fan cooling, real time thermal monitoring, and dual extruded heat sinks maintain heat dissipation even at high outputs, thus keeping the amp cool. The T1000X5ad is also compatible with Rockford's PLC2 level remote control, thus allowing remote output level control of the sub channel.
Additional features and specifications include:
• Rated Power: 100 Watts x 4 @ 4-Ohm + 400 x 1 @ 4-Ohm
100 Watts x 4 @ 2-Ohm + 600 x 1 @ 2-Ohm
600 Watts (sub channel) @ 1-Ohm
front and rear N/A @ 1-Ohm
• Frequency response: 20Hz - 20kHz
• Dimensions: 12in x 4.25in x 1.62in (30.5cm x 10.8cm x 4.1 cm)
• Class-AD technology (channels 1-4)
• Class-bd technology (sub channel)
• Differential inputs with high level auto turn-on feature
• 4/2 Ohm multi-impedance Constant Power
• Remote-Out feature when using high level inputs
• 2013 PLC2 remote ready
• C.L.E.A.N. input/output clip detection and indicator LEDs
• Top mounted controls
• Dual fan cooled
• Real time thermal sensing with Rollback technology
• Dual extruded heat sinks
• All other normal Rockford protection schemes
• 3-stage airflow: effectively exhausts heat and ensures amp runs cooler for optimum performance
• CEA-2006 and CE compliant
• Discrete surface mount technology
• 2-year standard warranty (extended 1-year warranty available)
•
T1000X5ad
About Rockford Fosgate
Setting the standard for excellence in the audio industry, Rockford Corporation markets high-performance audio systems under the brand Rockford Fosgate® for the mobile, motorsport, and marine audio aftermarket and OEM market. Headquartered in Tempe, Ariz., Rockford Corporation is a wholly owned subsidiary of Patrick Industries, Inc. (NASDAQ: PATK).