Rockford Fosgate Power Series Amps Reach New Zealand Shores via Distribution Partner Cube Electronics, Ltd.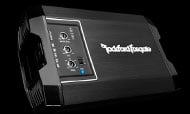 Rockford Fosgate (www.rockfordfosgate.com/mobile), the industry leader in high-performance audio systems, is pleased to announce that its new 2014 Power Series amplifier lineup, including the T400X4AD, T400X2AD, and T500X1BR, is now available in New Zealand.

"We are proud to be the authorized representative and distributor of Rockford Fosgate audio products, accessories, and wearables in New Zealand," said Kuben Chetty, president of Auckland, New Zealand-based Cube Electronics, which has been an authorized Rockford Fosgate distributor since 2011. "Rockford Fosgate brings a level of excitement to our dealers through their class leading products and fanatical consumer base. The new Power Series amplifiers are a great example of this. We look forward to having them available for sale in all of our dealers' stores."

The new Power line-up of ultra-compact stereo and mono amplifiers is built on high efficiency Class-AD and Class-BR technology. The Class-AD models feature multi-impedance Constant Power, and all models come equipped with input/output clip detection, top mounted controls, dual fan forced induction cooling, and optional Punch Level Control (PLC-2). CEA-2006 Compliant, they are perfect for hybrid, electric vehicles, cars, trucks, motorcycles, and side-by-side UTVs.


About Rockford Corporation
Setting the standard for excellence in the audio industry, the Rockford Corporation markets and distributes high-performance audio systems for the car, utv audio, and marine audio aftermarket and OEM market. Headquartered in Tempe, Ariz., Rockford Corporation is a publicly traded company and manufactures or distributes its products under the brand: Rockford Fosgate(R). For more information, please visit: rockfordfosgate.com.