Rockford Fosgate Plays Audio Slave to Astra GTC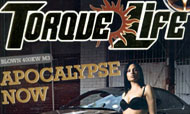 Being a Rockford Fosgate fan for many years, Rishen has always used RF products, be it in his Tazz, then his Polo, and now his GTC. His good buddy, Rael Greenspan of Image Audio in Durban gave him a few suggesting of what to do to make the GTC a banger. Rael's team immediately went to work and built a custom super wood and Perspex box that houses the three Rockford Fosgate P3 10" subwoofers. The award winning T-Series BD1000 amplifer was used to power the P3's while an RF 250.2 Punch amplifier drives MB Quart mids and tweeters and splits. But what this car has that's so special is the all new Rockford Fosgate 3Sixty.1 interactive signal processor. The 3Sixty.1 is the most advanced OEM integration processor on the market. Its advanced artificial intelligence allows the use of aftermarket car audio equipment to be utilized with virtually any OEM source unit. In addition, its equalization process overcomes and corrects for any OEM equalization inadequacies. Its auxiliary input enables you to add an iPod or other external audio device. Basically, with the 3Sixty, there is no need to change your OEM source unit, it just runs the speakers into the 3Sixty.1 and the powerful processor converts to RCA for easy connection ao any amplifier. Trust Rockford to be the innovators at the forfront of Car Audio. Read the attached PDF to read the entire article.
About Rockford Fosgate
Setting the standard for excellence in the audio industry, Rockford Corporation markets high-performance audio systems under the brand Rockford Fosgate® for the mobile, motorsport, and marine audio aftermarket and OEM market. Headquartered in Tempe, Ariz., Rockford Corporation is a wholly owned subsidiary of Patrick Industries, Inc. (NASDAQ: PATK).