ROCKFORD FOSGATE PARTNERS WITH HART AND HUNTINGTON RACING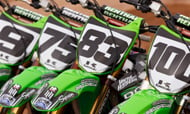 Rockford Fosgate, the industry leader in high-performance car audio systems, is proud to announce that it has partnered with the Hart and Huntington Racing to be the team's audio sponsor for the 2012 Supercross season.
"We couldn't be more excited than to be a part of the Hart and Huntington Racing team," said Theresa Hephner, Rockford senior director, products and marketing. "Supercross, like Rockford Fosgate, is all about power and performance, and the Hart and Huntington Racing team settles for nothing but the best. The Rockford Fosgate Fanatic lifestyle blends in perfectly with Hart and Huntington Racing's fan base."
Race fans who visit the Hart and Huntington pit area will find the team listening to Rockford Fosgate audio products exclusively. They'll be sporting the Rockford Fosgate logo on all of their team collateral, and the Rockford Fosgate brand will be integrated into Hart Racing's presence at each race. Outside the race venue, co-marketing activities between both brands will include a web collaboration, social networking sweepstakes, and custom produced video content.
"Rockford Fosgate exemplifies the Hart and Huntington team lifestyle," said Carey Hart, Hart and Huntington team owner. "From bikes, to wakeboards, to music, Rockford Fosgate and its legion of faithful followers live the life our riders and fans do. We look forward to a successful partnership."
For more information on Rockford Corporation, please visit www.rockfordcorp.com.
About Rockford Corporation
Setting the standard for excellence in the audio industry, the Rockford Corporation markets and distributes high-performance audio systems for the car, utv audio, and marine audio aftermarket and OEM market. Headquartered in Tempe, Ariz., Rockford Corporation is a publicly traded company and manufactures or distributes its products under the brand: Rockford Fosgate(R). For more information, please visit: rockfordfosgate.com.