Rockford Fosgate Packs 300 Watts Into Compact Amplifiers For Power Sports Enthusiasts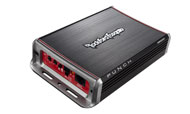 Rockford Fosgate the industry leader in mobile audio systems, has introduced a pair of high performance amplifiers that give owners of motorcycles and off-road vehicles the opportunity to enjoy powerful music on the go. With unmatched performance in a 'travel" size package, the new compact 300 watt Punch line boosted rail includes a 4 channel and a mono channel amplifier that are ideal for power sports enthusiasts.

"Everyone deserves to enjoy music on the go," said Bill Jackson, president of Rockford Corporation. "So we designed these two Punch amplifiers to give power sport enthusiasts the ability to enjoy their playlist without sacrificing sound quality or comfort. Because the amps are so rugged, reliable and space efficient, people can listen to quality music wherever their ride leads them."

From the aluminum case to the patent pending technology inside, the Punch amps were designed to perform. The Punch PBR300X1 mono amplifier is ideal for a subwoofer system while the PBR300X4 is a full-range 4-channel amplifier. Both feature short circuit protection, a fully adjustable crossover and mounting hardware.

"Space is always a premium when adding a sound system to a cycle or ATV," added David Baker, senior design engineer and electrical engineering manager for Rockford Fosgate. "And installations can be tricky if a system isn't engineered properly for the application. Because they're about a third of the size of traditional amps, either of our Punch amps can be mounted most anywhere, including under the seat. And both come with special quick connects so installation is very easy."

The high efficiency 300 watt boosted rail amplifiers are designed to work more efficiently with a motorcycle specific charging system because they use very little power at normal listening levels. By using boosted rail technology, the amps deliver big, powerful sound without a big current draw.

"The Punch amplifiers are very small, yet deliver big," noted Baker. "The ultra-efficient design means that they're ideal for use on motorcycles, ATV's, UTV's, scooters, four-wheelers, trikes and rough terrain vehicles because they draw less than 8 amps of current. That is less than half of what traditional 300 watt amplifiers draw."

Rockford Fosgate's extensive expertise in car audio was tapped to create these amps for power enthusiasts, so the PBR300X1 is optimized at 1 ohm for subwoofers and the PBR300X4 delivers 75 watts x 4 channels to play full range speakers. By leveraging that knowledge base, Rockford was able to introduce the pair of new amplifiers with an MSRP of only $269.99 each.

The Rockford Fosgate Punch PBR300X1 mono amplifier and PBR300X4 4 channel amplifier are now available through dealers worldwide. A complete set of specs and features can be found at www.rockfordfosgate.com. For info on installing the BRT amplifiers, view the video on Rockford Fosgate's YouTube channel at http://www.youtube.com/rockfordfosgate - p/a/u/0/I246L_8ppFk.


---

About Rockford Corporation
Setting the standard for excellence in the audio industry, the Rockford Corporation markets and distributes high-performance audio systems for the mobile audio aftermarket and OEM market. Headquartered in Tempe, Ariz., Rockford Corporation is a publicly traded company and manufactures its products under six brands: Rockford Fosgate(R), Rockford Acoustic Design(TM), Lightning Audio(R) and Brax, Helix and Renegade. For more information, please visit: www.rockfordfosgate.com, www.rockfordacousticdesign.com, www.lightningaudio.com, www.braxhifi.com, www.helixhifi.com and www.renegadecaraudio.com.
About Rockford Fosgate
Setting the standard for excellence in the audio industry, Rockford Corporation markets high-performance audio systems under the brand Rockford Fosgate® for the mobile, motorsport, and marine audio aftermarket and OEM market. Headquartered in Tempe, Ariz., Rockford Corporation is a wholly owned subsidiary of Patrick Industries, Inc. (NASDAQ: PATK).