Rockford Fosgate P2D412 Test Report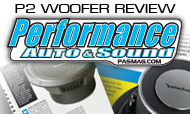 There's an old adage that a lot of companies seem to follow, that "if it ain't broke, don't fix it." While last year's offering definitely wasn't broken, it would appear that the people at Rockford aren't going to sit around and rest on their laurels.
The new Punch P2 woofers from Rockford Fosgate are indeed new, and most would agree, significantly improved. If you are a serious basshead shopping for woofers with a moderate budget, you owe it to yourself to give these hot performers a listen.
Download the PDF to read the entire article.
About Rockford Corporation
Setting the standard for excellence in the audio industry, the Rockford Corporation markets and distributes high-performance audio systems for the car, utv audio, and marine audio aftermarket and OEM market. Headquartered in Tempe, Ariz., Rockford Corporation is a publicly traded company and manufactures or distributes its products under the brand: Rockford Fosgate(R). For more information, please visit: rockfordfosgate.com.