Rockford Fosgate official Audio Products Sponsor of United Healthcare Pro Cycling Team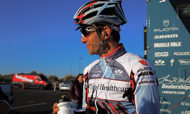 Rockford Corporation announced today that it will proudly sponsor the UnitedHealthcare Pro Cycling Team Presented by Maxxis for 2010, bringing its unique style of high-performance audio products, including its new PUNCH PLUGS headphones, to the world of cycling.

"Were excited to be a part of UnitedHealthcare Pro Team Presented by Maxxis, said Rockford Fosgate Sr. Marketing Manager David Slepak. This organization is first class and the perfect ambassadors to help Rockford engage and embrace the members of the rapidly growing cycling community. These professional athletes also give Rockford a solid platform to test and continue to develop our personal audio products, which are ideally suited to the outdoor enthusiast.

Rockford Fosgates commitment to UnitedHealthcare Presented by Maxxis includes a custom-built audio system that integrates into the teams new RV and hospitality presentation. The multi-media system includes Rockfords new RFDJ1 2-Way Loudspeaker system matched to twelve, 12-inch PUNCH subwoofers. No pedal power here, Rockford motivates the wall-of-bass with over 2,500 watts of power, and tops it off with a 32 flat screen monitor coupled to Apple TV.

Adding energy and excitement to our presence this year was a huge priority, said Thierry Attias, President and Director of Sponsorship for Momentum Sports Group, which owns and operates the UnitedHealthcare Pro Cycling Team Presented by Maxxis. The addition of Rockford Fosgate and their passion for high-performance audio adds a new dimension to the landscape not seen before at your typical cycling event. These guys get it, not to mention theyre also passionate about cycling. Were pleased to have them as the official audio sponsor of our team.
---
Rockford Corporation is a designer, marketer and distributor of high-performance audio systems for the mobile audio aftermarket, personal audio, professional audio and for the OEM automotive, marine and trailer applications. Rockford's mobile audio products are marketed primarily under the Rockford Fosgate(R), Rockford Acoustic Design(TM) and Lightning Audio(R) brand names. Rockford's primary brand websites include: https://rockfordfosgate.com, http://www.rockfordacousticdesign.com, and http://www.lightningaudio.com and http://www.installedge.com.
About Rockford Corporation
Setting the standard for excellence in the audio industry, the Rockford Corporation markets and distributes high-performance audio systems for the car, utv audio, and marine audio aftermarket and OEM market. Headquartered in Tempe, Ariz., Rockford Corporation is a publicly traded company and manufactures or distributes its products under the brand: Rockford Fosgate(R). For more information, please visit: rockfordfosgate.com.