Rockford Fosgate Named Official Motorcycle Audio Sponsor of the Sturgis® Motorcycle Rally™ 2014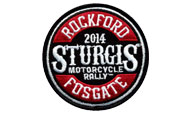 Rockford Fosgate, the industry leader in high-performance car audio systems, is proud to announce it has been named the official motorcycle audio sponsor of the famed Sturgis® Motorcycle Rally 2014. Also named sponsor of the "12th Annual Mayor's Ride," Rockford Fosgate will demonstrate its line of acclaimed motorcycle gear in its booth location on Lazelle Street in downtown Sturgis, SD during the 74th annual week-long event from August 4-10.



UPDATE 7/22: 
Just announced: Bagger Nation's Paul Jaffe and Hatred Customs' Brian Jenkins are scheduled to appear at Rockford Fosgate's booth location in the Sturgis community center parking lot to sign autographs and pose for pictures on Saturday, August 2 at Noon; Sunday, August 3 at 2:00pm; and Thursday, August 7 at 3:30pm.
"For anyone that rides, they know what the significance and scope of the Sturgis® Motorcycle Rally™ means, and what it's all about," said Bill Jackson, Rockford CEO and president. "The same goes for the Rockford Fosgate name in the world of high-end mobile audio. Motorcycle enthusiasts and Rockford Fosgate Fanatics share the same hardcore passion for what they love. With our line of motorcycle-specific audio solutions, Sturgis and Rockford Fosgate are a perfect pairing, and we are proud to be named the official motorcycle audio sponsor for this year's rally."
Since 1938, the Sturgis® Motorcycle Rally™ has grown to become one of the largest motorcycle rallies in the world. According to Sturgis statistics, over half-a-million motorcycle enthusiasts participated in the 2013 event.
Rockford Fosgate engineers apply the same principles used in its line of award-winning automotive audio equipment to create compact, yet powerful and efficient audio components for use in the unique conditions encountered by motorcycles.
"We've developed amplifiers small enough to fit inside fairings yet powerful enough to drive our high output speakers to overcome noises caused by road, wind, and exhaust," explained Jackson. "We've also created a line of weather resistant motorcycle speakers that impede dirt, dust, and moisture. Our subwoofers are designed to fit rear bags and deliver deep, low bass. Top this off with a range of source units that are conveniently operated using space saving remote controls."
"The City of Sturgis is proud to partner with the cutting edge technology of Rockford Fosgate," Sturgis city manager, Daniel Ainslie commented. "Their specially designed motorcycle speakers epitomize the qualities our riders expect and deserve when traveling across America to attend the Sturgis® Motorcycle Rally™."
For more information on the Rockford Fosgate Sturgis® Motorcycle Rally 2014 sponsorship and promotions, visit
http://www.sturgismotorcyclerally.com/sponsorship/rockfordfosgate.php
.
About Rockford Corporation
Setting the standard for excellence in the audio industry, the Rockford Corporation markets and distributes high-performance audio systems for the car, utv audio, and marine audio aftermarket and OEM market. Headquartered in Tempe, Ariz., Rockford Corporation is a publicly traded company and manufactures or distributes its products under the brand: Rockford Fosgate(R). For more information, please visit: rockfordfosgate.com.