Rockford Fosgate Named Official Audio Sponsor Of The Rockstar Energy Uproar Festival 2014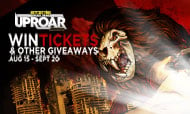 Rockford Fosgate (www.rockfordfosgate.com/mobile), the industry leader in high-performance audio systems, is proud to announce it is once again the official audio sponsor of the Rockstar Energy UPROAR Festival 2014. Rockford Fosgate will participate in a number of concert promotions throughout select tour dates for chances to win tickets, prizes, and more. The Rockstar Energy UPROAR Festival begins Aug. 15 and runs through Sept. 21. It includes a stellar lineup of multi-platinum superstars and breaking talent, featuring Godsmack and Seether.

"Great atmosphere, great crowds, and a hard-core passion for music are what the UPROAR concert series is all about," said Tammy Lowe, Rockford Corporation's marketing manager. "It's only natural for Rockford Fosgate to continue our partnership with UPROAR and have another fantastic summer on tour."

Once again, Rockford Fosgate will offer the chance to win two (2) tickets and two (2) Rockford Fosgate t-shirts to a lucky contestant in each of the festival's stops throughout the United States. To enter, participants can simply log on to Rockford's UPROAR promotion site or on Rockford Fosgate's Facebook page. To be considered, registrants must complete the Rockford Fosgate UPROAR Festival Ticket Giveaway Promotion entry form between now and Sept. 5, 2014. The winners will be selected at random. No purchase necessary. Please visit www.rockfordfosgate.com for full terms and conditions.

New for this year, one lucky winner at every UPROAR tour stop will win a Rockford Fosgate bass system as well as a VIP concert package. In addition, Rockford and UPROAR have teamed up to offer a special on-line Grand Prize promotion that awards a $2,500 complete Rockford Fosgate audio system. More details will be coming soon at www.rockstaruproar.com.
About Rockford Corporation
Setting the standard for excellence in the audio industry, the Rockford Corporation markets and distributes high-performance audio systems for the car, utv audio, and marine audio aftermarket and OEM market. Headquartered in Tempe, Ariz., Rockford Corporation is a publicly traded company and manufactures or distributes its products under the brand: Rockford Fosgate(R). For more information, please visit: rockfordfosgate.com.