Rockford Fosgate Named Official Audio Sponsor of the Rockstar Energy UPROAR Festival 2013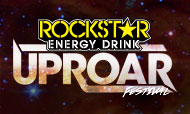 Rockford Fosgate, the industry leader in high-performance car audio systems, is proud to announce it is the official audio sponsor of the Rockstar Energy UPROAR Festival 2013. Rockford Fosgate will participate in a number of concert promotions throughout select tour dates for chances to win tickets, prizes, and more. The Rockstar Energy UPROAR Festival begins August 9 in Scranton, Penn., and ends Sept. 15 in Chula Vista, Calif. It includes a stellar lineup of multiplatinum superstars and breaking talent, featuring Alice In Chains and Jane's Addiction.

"Loud and in-your-face music is both what the UPROAR Festival and Rockford Fosgate are all about," said Bill Jackson, Rockford president and CEO. "UPROAR's concertgoers and Rockford Fosgate's legions of Fanatics are one-in-the-same, so it's only natural that we team up to promote this festival. With our mini SoundLabs making appearances at select venues, its popularity combined with the great band lineup will make this the wildest tour of the summer."

Rockford Fosgate will offer the chance to win two (2) tickets and two (2) Rockford Fosgate t-shirts to a lucky contestant in each of the festival's stops throughout the United States (Canadian tour dates are excluded from this promotion). To enter, participants can simply log on to www.rockfordfosgate.com/promotions/2013_UPROAR or on Rockford Fosgate's Facebook page. To be considered, registrants must complete the Rockford Fosgate UPROAR Festival Ticket Giveaway Promotion entry form between Jul. 15, 2013, and Aug. 26, 2013. The winners will be selected at random. No purchase necessary. Please visit www.rockfordfosgate.com for full terms and conditions.

Rockford Fosgate will present at seven tour stops, including Wantagh, N.Y, Clarkston, Mich., Dallas, Salt Lake City, Seattle, Ridgefield, Wash., and Phoenix. First, the Rockford Fosgate "mini SoundLab" will be present during the Rockstar Energy UPROAR Festival at these venues. The mini SoundLab is a high performance demo vehicle built on a 2012 Ford Transit Connect wheelbase. The demo vehicle features a 3,600 Watt pressure chamber with 12 speakers, including six Punch 15-inch subwoofers, and gives participants the opportunity to experience the full Punch of Rockford Fosgate car audio equipment.

Second, Rockford Fosgate (along with an authorized dealer) will also sponsor a contest during these seven tour stops. At each of these select venues, Rockford Fosgate will give away one $2,500 audio package (consisting of a Rockford Fosgate audio system and installation services performed by the dealer) per event.

For more information on the Rockford Fosgate Rockstar Energy UPROAR Festival 2013 sponsorship and promotions, visit www.rockfordfosgate.com/promotions.
About Rockford Fosgate
Setting the standard for excellence in the audio industry, Rockford Corporation markets high-performance audio systems under the brand Rockford Fosgate® for the mobile, motorsport, and marine audio aftermarket and OEM market. Headquartered in Tempe, Ariz., Rockford Corporation is a wholly owned subsidiary of Patrick Industries, Inc. (NASDAQ: PATK).