Rockford Fosgate Mustang Package Rocks StangNet.com's New GT500 Project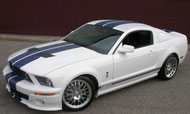 Rockford Corporation (Nasdaq: ROFO) today announced it's collaboration with StangNet.com and Classic Design Concepts (CDC) to bring a high performance audio package solution to StangNet's latest flagship project car, a fully built and very bold new Shelby GT500 Mustang.
"The Glassback GT500 grabs attention at every level, from its hand-styled exterior treatments to the high performance modifications lurking between the wheel wells. Bringing the audio system up to speed was a logical next move" Said George Huisman, President of Classic Design Concepts. To achieve this goal, StangNet.com and CDC contacted the experts at Rockford Fosgate, the leader in high performance mobile audio for over 25 years.
Rockford Fosgate's Mustang Audio Package was designed to provide second-to-none audio performance and compliment the overall needs and styling of StangNet's GT500. Rockford Fosgate began with clear goals set for the audio treatments; A front sound stage with impact, crystal clear and detailed high frequency reproduction and bass performance synonymous with our Rockford Fosgate sonic signature. To achieve these goals, a system design was created with requirements for 8-inch door woofers, front and rear 6.5-inch full-range component speakers, a long-throw 12-inch subwoofer and 2 Kilowatts of power.
Focusing first on the front stage in the car, Rockford Fosgate provided a pair of P2D48 8-inch woofers, powered by a new T400-2 Power series amplifier generating 400-watts. P162S 6.5-inch component speakers were then installed into the front and rear factory locations. Front and rear component speakers come alive via Rockford's legendary Power1000 amplifier, a single chassis 5-channel 1,400-watt flagship model that celebrates our 25 years of success. With only the need for heart-stopping bass remaining, a P2D412 PUNCH long-throw 12-inch subwoofer was loaded into a custom molded enclosure and mounted in the passenger side trunk area with a matching amplifier rack located on the driver side. The 5th channel of the Power1000 amplifier was tasked with creating the 600-watts needed for the subwoofer to dish out the boom.
"The final result of this GT500 project is nothing short of amazing". Said Joe Dahlquist, OEM Marketing Specialist for Rockford Corporation. "The components selected and their application provided a sound system that perfectly compliments the car, killer looks and killer performance. Who says you can't have the best of both worlds?"
The StangNet.com Shelby GT500 will be displayed at the Mid American Shelby & Ford meet in Tulsa, OK. June 14th to 17th and is also scheduled for SEMA in the Fall of 2007.
About Rockford Corporation (www.rockfordcorp.com)
Rockford is a designer, manufacturer and distributor of high-performance audio systems for the mobile audio aftermarket and for the OEM market. Rockford's mobile audio products are marketed primarily under the Rockford Fosgate, Rockford Acoustic Design and Lightning Audio brand names.
Brand websites include:
www.rockfordfosgate.com
www.rockfordacousticdesign.com
www.lightningaudio.com
www.installedge.com.
SOURCE Rockford Corporation.
Joe Dahlquist, OEM Marketing Specialist
+1-480-444-3237
[email protected]
About Rockford Fosgate
Setting the standard for excellence in the audio industry, Rockford Corporation markets high-performance audio systems under the brand Rockford Fosgate® for the mobile, motorsport, and marine audio aftermarket and OEM market. Headquartered in Tempe, Ariz., Rockford Corporation is a wholly owned subsidiary of Patrick Industries, Inc. (NASDAQ: PATK).