Rockford Fosgate Loads ICE in Peugeot 206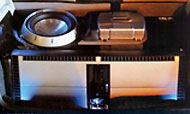 The enjoyment of the crew goes a lot further than just watching some Robbie Clay DVDs. That's why if you close the door for a fleeting second to read the only decal on the side of the car, you'll see it reads "Rockford Fosgate". That name is pretty much all you see when you open the 206's boot as well. That's right, this little French number is kitted out to the hilt with Rockford Fosgate goodies. ICE Clarion in-dash DVD VRX935VD source unit Rockford Fosgate Power T15004 amplifier Rockford Fosgate Power T2 12" subwoofers Rockford Fosgate 25 Farad capacitor Rockford Fosgate wiring Download the attached PDF to read the entire article.
About Rockford Corporation
Setting the standard for excellence in the audio industry, the Rockford Corporation markets and distributes high-performance audio systems for the car, utv audio, and marine audio aftermarket and OEM market. Headquartered in Tempe, Ariz., Rockford Corporation is a publicly traded company and manufactures or distributes its products under the brand: Rockford Fosgate(R). For more information, please visit: rockfordfosgate.com.