Rockford Fosgate Launches What's Your Volume Promotion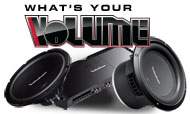 Rockford Fosgate is looking for a true Rockford Fosgate fanatic to be featured in an upcoming issue of the acclaimed Volume Magazine.

What's Your Volume Video Contest starts November 1st, 2009 and the Rockford crew will be accepting video submissions via www.rockfordfosgate.com/contest through November 30th, 2009. We're looking for a Rockford Fosgate car audio fanatic for our next issue of Volume Magazine set to come out in 2010. This is a nationwide search for one lucky winner and the best part is . . . it's up to the world to decide who will make it into the magazine. Voting will start November 30st 2009. The contest winner will have a complete spread inside the Volume publication as well as a one-year Rockford Fosgate sponsorship package.

"Rockford Fosgate is the premier car audio manufacture in the world, every day I get tons of emails, pictures and more from enthusiast all over the world showing their passion for the Rockford brand and how they've made Rockford Fosgate theirs. To be able to host this type of contest and let the world be able see and vote for these true audio fanatics is something really special," says David Slepak, Sr. Marketing Manager at Rockford.

To insure car audio enthusiasts everywhere can show the world "What their Volume" is, Rockford Fosgate is supporting the contest with the What's Your Volume Sales Promotion that is guaranteed to blow the doors off any ride. From November 1st, 2009 to January 4th, 2010 Rockford Fosgate is giving $100 off the purchase of $399 or more of Rockford Fosgate gear, or $50 off the purchase of $199 of Rockford Fosgate gear when purchased from any participating Authorized Rockford Fosgate retailer. To redeem this savings consumers simply go to www.rockfordfosgate.com to collect their coupon and then visit their participating Authorized Rockford Fosgate retailer to pick out their new Rockford Fosgate system.

Be sure to check out YouTube, Facebook, and of course www.rockfordfosgate.com for more information.
---

Rockford Fosgate is a designer, marketer and distributor of high-performance audio systems for the mobile audio aftermarket and for the OEM market. Rockford's mobile audio products are marketed primarily under the Rockford Fosgate(R), Rockford Acoustic Design(TM) and Lightning Audio(R) brand names.

Rockford's primary brand websites include: https://rockfordfosgate.com, http://www.rockfordacousticdesign.com, and http://www.lightningaudio.com and http://www.installedge.com.
About Rockford Fosgate
Setting the standard for excellence in the audio industry, Rockford Corporation markets high-performance audio systems under the brand Rockford Fosgate® for the mobile, motorsport, and marine audio aftermarket and OEM market. Headquartered in Tempe, Ariz., Rockford Corporation is a wholly owned subsidiary of Patrick Industries, Inc. (NASDAQ: PATK).