Rockford Fosgate Launches Updated Power Series Subwoofers At 2015 Product Showcase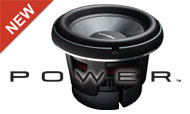 Rockford Fosgate (www.rockfordfosgate.com), the industry leader in high-performance audio systems, is proud to announce that it will launch the new Power Series subwoofer lines during its annual Product Showcase, held at The Hard Rock Hotel & Casino (Artist Ballroom) in Las Vegas, Nev. from Jan. 6-8, 2015.

"For years, our Power Series subwoofers have garnered accolades from both our dealers and customers alike, and so we are excited to debut our updated Power Series subs for 2015," said Jake Braaten, Rockford's V.P. of product development & engineering. "As installs become more and more intricate and space limitations are more common, we've redesigned our Power Series subwoofer line to include slim-fit models that accommodate such applications. We were careful not to compromise performance, and even created a revolutionary design that delivers class leading performance."

Braaten added that technical highlights that contribute to the Slim-Fit subs' new performance characteristics include injection molded foam surround with VAST proprietary surround technique, encapsulating voice coil to former coupling technology (patent pending), high temperature energy neodymium motor structure, and proprietary split yoke pass thru motor structure (patent pending).

In addition, Rockford Fosgate is launching six models of Power T2 and T3 subwoofers for 2015. These include two sizes of T2 woofers in 13-inch and 16-inch models with 1 & 2 ohm versions of each. T2 technical highlights include a carbon fiber/PMI/glass fiber cone with aluminum dustcap, injection molded foam surround with VAST proprietary surround technique, aluminum die cast frame with integrated heatsink fins, and triple stack segmented ferrite motor structure.

The new T3 "Superwoofer" features a glass fiber/ aramid honeycomb/ glass fiber multilayer cone design, twin 5-inch voice coils in a dual gap, multi-pole neodymium push/pull motor structure and 4 gauge compression speaker terminals. Designed with maximum output in mind, the T3 woofer also features an astounding 35mm of Xmax excursion in one direction.

About Rockford Corporation
Setting the standard for excellence in the audio industry, the Rockford Corporation markets and distributes high-performance audio systems for the car, utv audio, and marine audio aftermarket and OEM market. Headquartered in Tempe, Ariz., Rockford Corporation is a publicly traded company and manufactures or distributes its products under the brand: Rockford Fosgate(R). For more information, please visit: rockfordfosgate.com.