Rockford Fosgate Launches SEMA 2012 Web Guide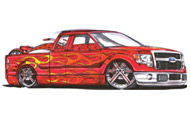 Rockford Fosgate, the industry leader in high-performance car audio systems, is proud to announce its SEMA 2012 Web Guide. Live as of Oct. 15, rockfordfosgate.com/sema is a complete virtual guide to Rockford Fosgate's custom show vehicles on display at SEMA 2012, which is being held in Las Vegas, Nev. at the Las Vegas Convention Center from Oct. 30 – Nov. 2.

"We will be providing live coverage from the SEMA show floor October 30 through November 2, including videos and pictures," explained Theresa Hephner, Rockford Senior Director, Products and Marketing. "Rockford Fanatics who won't be able to attend will be able check out the show as it happens." Rockford's SEMA 2012 Web Guide will also provided information on Rockford's custom show vehicles, including a bio on the builder and vehicle owner, SEMA booth location, photos, audio system description including Rockford Fosgate model numbers, and a complete system diagram.

"The SEMA 2012 Web Guide is the next best thing to being at the show," Hephner added. "If you want to look in on what's happening there and see these awesome custom built cars with incredible Rockford Fosgate systems, we'll have it for you."

For more information on Rockford Corporation, please visit www.rockfordcorp.com. About SEMA and the SEMA Show. The SEMA Show is a trade show produced by the Specialty Equipment Market Association (SEMA), a nonprofit trade association founded in 1963. Since the first SEMA Show debuted in 1967, the annual event has served as the leading venue bringing together manufacturers and buyers within the automotive specialty equipment industry. Products featured at the SEMA Show include those that enhance the styling, functionality, comfort, convenience and safety of cars and trucks. Additional details are available at www.SEMAShow.com or www.SEMA.org, 909/396-0289.

About Rockford Fosgate
Setting the standard for excellence in the audio industry, Rockford Corporation markets high-performance audio systems under the brand Rockford Fosgate® for the mobile, motorsport, and marine audio aftermarket and OEM market. Headquartered in Tempe, Ariz., Rockford Corporation is a wholly owned subsidiary of Patrick Industries, Inc. (NASDAQ: PATK).