Rockford Fosgate Launches autolink Smart Control App for Remote Start Systems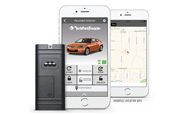 Rockford Fosgate (www.rockfordfosgate.com), the industry leader in high-performance audio systems, is proud to announce the launch of the autolink smart control app for remote start systems. Sold exclusively through Rockford Fosgate dealers, autolink is offered to consumers for only $99.99 USD (excluding installation), which includes the first year of service at no additional charge. After year one, consumers have the option to renew for just $29 a year. TwoClear and three-year renewal options are also available.

"Consumers have made it clear that they want the ability to control everything from their smartphone," explained Theresa Anthony, Rockford Corp. vice president – sales and marketing. "But many have waited to add this to their remote start system because the initial retail cost is too great and there are expensive service fees to be paid. That's why we have worked to bring a solution that is both well-equipped and affordable."

The multi-brand compatible autolink add-on interface module allows control of an aftermarket remote start system through a downloadable Smart phone application. The app provides control of a vehicle from virtually anywhere network service is available. Additionally, an integrated GPS locator will show the user where the vehicle is at anytime from anywhere.

Additional features, specs, and pricing include:
• Remote start or stop vehicle's engine
• Remotely Lock or Unlock vehicle and door lock status
• Locate vehicle via GPS
• Battery voltage status
• Control up to four additional functions from the smartphone such as truck release, heated seats, defrost, windows, and more (functions are dependent upon the remote start system installed in the vehicle)
• For use with multiple brands - autolink works with most digital alarm remote start systems
• Supports IOS and Android
• autolink operates on a nationwide cellular network so user can be virtually anywhere and still control the vehicle
• App control will function when smartphone has a cellular network connection or Wifi Internet connection
• First year is free with autolink purchase
  - 1 YR $29
  - 2 YR $49
  - 3 YR $59

Consumers can purchase autolink at Rockford Fosgate retail locations beginning in late September.
About Rockford Fosgate
Setting the standard for excellence in the audio industry, Rockford Corporation markets high-performance audio systems under the brand Rockford Fosgate® for the mobile, motorsport, and marine audio aftermarket and OEM market. Headquartered in Tempe, Ariz., Rockford Corporation is a wholly owned subsidiary of Patrick Industries, Inc. (NASDAQ: PATK).