ROCKFORD FOSGATE LAUNCHES 8-INCH PUNCH P3S SHALLOW WOOFER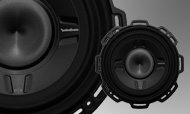 Rockford Fosgate, the industry leader in high-performance car audio systems, announced that it will introduce the latest addition to its acclaimed Punch P3 Shallow subwoofer line at The Palms Casino Resort in Las Vegas, Nev. from Jan. 10-12, 2012, in The Palms Ballroom. The all new P3SD4-8 8-inch, 150-Watt RMS, 2-Ohm and dual 4-Ohm models will round out the P3 subwoofer series, which includes 10- and 12-inch subs. The Punch P3SD4-8 is expected to ship Q2 with an MAP of $189.99.
"The entire Punch P3 Shallow line has gone through a performance makeover, which includes adding an 8-inch, dual 4-Ohm and dual 2-Ohm option for tight space constraints," explained Jake Braaten, Rockford Director of Product development. "Shallow woofers are designed for challenging spaces where a traditional woofer cannot be used. Now, consumers who are looking for Rockford's famed Punch performance in a shallow, 8-inch package have found the answer. The Punch P3 line has it all."
The P3 line also offers two 300-Watt RMS 10-inch models (2-Ohm DVC, and 4-Ohm DVC) and two 400-Watt RMS 12-inch (2-Ohm DVC, and 4-Ohm DVC) models.
Features of the P3 Shallow subwoofer line include:
Custom 10-AWG nickel plated push terminals
Extended pole piece and bumped vented backplate
High excursion Poly-Ether-Ester surround
High-temp voice coil with spun-laced Nomex® re-inforcement collar
Kevlar Fiber reinforced semi-pressed paper cone and ABS/Acrylic dustcap
Linear spider with embedded 16 AWG tinsel leads
Protective PVC textured magnet cover
Reversible diamond cut cast aluminum trim ring
Rigid die-cast aluminum low profile basket
Vented spider cavity
The Rockford Fosgate P3 Shallow Mount subwoofer series delivers the Punch, even in depth limited mounting situations. All vehicles are not the same…some can accommodate deep subwoofers and some can't. In the past, that meant no bass. Not anymore. Now even depth challenged vehicles can have real bass and the dual voice coil allows configurations for every application.
Specifications and prices subject to change without notice.
For more information on Rockford Corporation, please visit www.rockfordcorp.com.
About Rockford Fosgate
Setting the standard for excellence in the audio industry, Rockford Corporation markets high-performance audio systems under the brand Rockford Fosgate® for the mobile, motorsport, and marine audio aftermarket and OEM market. Headquartered in Tempe, Ariz., Rockford Corporation is a wholly owned subsidiary of Patrick Industries, Inc. (NASDAQ: PATK).