Rockford Fosgate Is Official Motorcycle Audio Sponsor Of The Sturgis® Motorcycle Rally™ 2015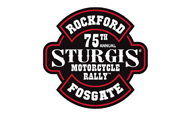 Rockford Fosgate (www.rockfordfosgate.com), the industry leader in high-performance audio systems, is proud to announce for the second consecutive year that it will be the official motorcycle audio sponsor of the famed Sturgis® Motorcycle Rally™ 2015. Rockford Fosgate is proud to bring high performance motorcycle audio systems to the crowds of enthusiasts on Lazelle Street in downtown Sturgis, SD during the 75th annual week-long event from August 3-9.

"Last year's event was incredible, and we are thrilled to once again be the official motorcycle audio sponsor of the Sturgis® Motorcycle Rally™ for 2015," said Bill Jackson, Rockford CEO and president. "Our booth was swamped by passionate motorcycle Fanatics last year, and we are looking forward to seeing some familiar faces, and many new ones, at this year's event. We are going to have a lot going on all week, and we can't wait to get there."

At the Rockford Fosgate booth, which will be located at the corner of 2nd Street and Lazelle Street, Rockford will be featuring the RF mini soundlab, slingshot, motorcycles, and active stereo displays, as well as offering numerous promotions and giveaways. For this 75th anniversary rally, Rockford also teamed up with several of its retail partners in order to offer products for sales as well as on-site installation during the rally. Rockford is also promoting its dealer network of authorized motorcycle audio installation centers for those attendees who want to get their audio systems upgraded at home.

Rockford's approach to those audio system upgrades include compact, yet powerful and efficient audio components for use in the unique conditions encountered by motorcycles.

"Anyone who loves riding on the open road knows how harsh the elements can be at any given time, whether it be temperature, dirt, dust, moisture, and even noise," explained Jackson. "To that end, we have developed specially-designed element-ready source units, amps, speakers, subwoofers, and installation accessories that are small enough to fit on a motorcycle, but powerful and durable enough to provide our acclaimed sonic signature while withstanding the elements in such a tight and demanding environment."

Since 1938, the Sturgis® Motorcycle Rally™ has grown to become one of the largest motorcycle rallies in the world. According to Sturgis statistics, nearly half-a-million motorcycle enthusiasts participated in the 2014 event.

"The City of Sturgis is proud to once again partner with Rockford Fosgate for the 75th Annual Sturgis® Motorcycle Rally™," added Sturgis City Manager Daniel Ainslie. "Last year proved that Sturgis and Rockford Fosgate is a perfect pair. Those who ride love their music and with Rockford Fosgate's dedication to delivering world-class audio products designed specifically for their bikes, it's no wonder how enormously popular Rockford is during the Rally."

Rockford Fosgate will also sponsor the "13th Annual Mayor's Ride," held during the rally.

For more information on participating in the Mayor's Ride, please visit http://www.sturgismotorcyclerally.com/events-link/annual-mayors-ride

For more information on the Rockford Fosgate Sturgis® Motorcycle Rally™ 2015 sponsorship and promotions, visit http://www.sturgismotorcyclerally.com/sponsors/official-sponsors/rockford-fosgate.

About Rockford Fosgate
Setting the standard for excellence in the audio industry, Rockford Corporation markets high-performance audio systems under the brand Rockford Fosgate® for the mobile, motorsport, and marine audio aftermarket and OEM market. Headquartered in Tempe, Ariz., Rockford Corporation is a wholly owned subsidiary of Patrick Industries, Inc. (NASDAQ: PATK).