Rockford Fosgate Introduces New PUNCH Loaded Enclosures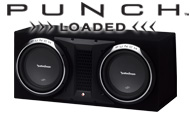 Rockford Fosgate releases entirely redesigned PUNCH Loaded enclosures, jam packed with new features and entirely new look. New from the ground up and consistent with Rockford Fosgate's 2009 "Solutions" product initiative, the perfectly matched woofer and enclosure break new ground in construction, technology and sound.

A giant LEAP forward, LEAP (Loudspeaker Enclosure Analysis Program) was utilized to determine the optimum port tuning for each enclosure design. The high-flow, low-noise port design maximizes tight, clean bass minimizing unwanted noise and distortion.

Using the latest CNC techniques to insure precise dimensional accuracy, all new PUNCH Loaded enclosures feature robust 5/8" MDF construction. This construction provides unmatched rigidity and dampens unwanted acoustical resonances. Each PUNCH Loaded unit is fitted with high quality large AWG input terminals making hook up clean and simple. Because these systems should look as good as they sound, Rockford Fosgate finishes off each enclosure with industrial grade carpet optimized for the automotive environment.

"It's all there, we've pulled out all the stops to make sure these new loaded enclosures look and sound killer!" says Jake Braaten, Rockford Fosgate Director of Brand and Product Development.

The new PUNCH Loaded enclosures cradle the latest series of PUNCH woofers giving endless options for true system customization. Systems available for 2009 include PUNCH Loaded enclosures specifically designed for PUNCH P3, P3 Shallow, P2 and P1 woofers, both in 10" and 12" size.

Rockford Fosgate PUNCH Loaded enclosures will be available at over 800 Rockford Fosgate retailers nationwide starting in March, 2009. Retail pricing starts at $279.99.


---
Rockford is a designer, marketer and distributor of high-performance audio systems for the mobile audio aftermarket and for the OEM market. Rockford's mobile audio products are marketed primarily under the Rockford Fosgate(R), Rockford Acoustic Design(TM) and Lightning Audio(R) brand names.

Rockford's primary brand websites include: https://rockfordfosgate.com, http://www.rockfordacousticdesign.com, and http://www.lightningaudio.com and http://www.installedge.com.

Rockford Fosgate is a division of Rockford Corporation in Tempe, Ariz., a publicly traded company under the NASDAQ stock symbol ROFO. Company websites can be viewed at rockfordfosgate.com and rockfordcorp.com
About Rockford Fosgate
Setting the standard for excellence in the audio industry, Rockford Corporation markets high-performance audio systems under the brand Rockford Fosgate® for the mobile, motorsport, and marine audio aftermarket and OEM market. Headquartered in Tempe, Ariz., Rockford Corporation is a wholly owned subsidiary of Patrick Industries, Inc. (NASDAQ: PATK).