Rockford Fosgate in BMW 325iS Night Crawler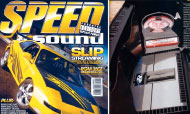 BMW Ice Overview:
Source Unit: Kenwood DVD/MP3 motorized screen
Amplifiers: Rockford Fosgate Power T800.4 4-channel
Front Splits: 6-inch MB Quart Discus
Rear Splits: 6-inch Rockford Fosgate Punch
Subs: (3) 8-inch Rockford Fosgate
Caps: (2) Rockford Fosgate 1-Farad digital cap
Cabling: Rockford Fosgate
Installer: Image Audio, Durban, South Africa
Download PDF to read entire article.
About Rockford Corporation
Setting the standard for excellence in the audio industry, the Rockford Corporation markets and distributes high-performance audio systems for the car, utv audio, and marine audio aftermarket and OEM market. Headquartered in Tempe, Ariz., Rockford Corporation is a publicly traded company and manufactures or distributes its products under the brand: Rockford Fosgate(R). For more information, please visit: rockfordfosgate.com.