Rockford Fosgate in a Magic Duster In Poland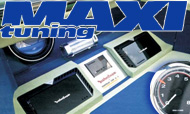 Magazine PDF available in Polish Only.

Below translation & editing courteousy of Agnieszka Chojnacka
Unique, unchallanged and definitely ultimately awesome - those are the features of  Plymouth Duster, the car that has conquered the hearts, imagination and judges of many a car competitions in Poland, Europe and the USA.
Car Audio Gear:
(1) Rockford Fosgate Power T1500.1bd
(1) Rockford Fosgate Power T600.4
(2) Rockford Fosgate Punch T162S
(2) Rockford Fosgate Punch P3D412 
We haven't seen anything like it in a long while. Not only it's and oldtimer but dare I say one of the evergreen ones. Enough said, that this vehicle is the closest you can get to the original Duster –the car that thirty years ago was able to cover quarter of a mile in less than ten seconds and,  even though, the car world has gone a long way since, such a feat is not so easily forgotten.
Nowadays,  no one expects this car to break any speed records, nevertheless the 1972-vintage is fully capable of  breaking all of the rules when it comes to both esthetics and interior and exterior design that make all the other drivers sick with jealousy (not just over the 220-horse power hidden under the boot). 
We saw Duster in Piotrków Trybunalski during the  American Old Picnic. Its owner Jarosław Surosz, is a professional,  American Oldie – surgeon" and also a great fan of these cars ( as he owns not just Duster but a couple of other beauties).
Project Duster holds a very special place in his collection (and heart). Plymouth Duster is not only picture perfect when it comes to its looks but also to its car audio equipment. Not having enough experience in the car audio matter all the installation work was commissioned to one of the  best demo carshops in Warsaw - Centrum Car Hi-Fi. 
ROCKFORD FOSGATE TEAM
All the installation work started in the early Spring and the final outcome exceeded everyone's expectations. In April during  Car + Sound event in Germany Plymouth Duster kept everyone glued to the Rockford Fosgate box and took the first place in the European Car Audio installation competition. The dream of Duster is particularly fantastic during the live car events. It was especially obvious at a  Car Audio Exposition in Lublin, where Duster literally killed its modern democar competition. 
PASSION FOR DETAIL
There aren't many products in the world that were made with not only with attention to, but what is more important, passion for detail. Thanks to a group of car-maniacs Duster is definitely no short of passion in every detail and I'm not reffering only to the Rockford Fosgate products.  
For starters, we shall have a closer look at the radioplayer by Becker.  Mexico Retro is the best choice ever, with its custom made design this radio perfectly completes the vintage look of Duster. Just like our car, Mexico Retro radio is a reminiscence of  a golden oldie, which was a legendary product for Becker, over forty years ago, and a perfect dream for all car audio enthusiasts. Underneath its vintage skin/shell Mexico Retro is MP3 player with SD/MMC card reader, satelite navigation, bluetooth and iPod connection, it's even got an inbuild GSM phone with SIM card.
With the use of stylish control buttons and knobs we have access to all the state of the art improvements, one of which is Rockford Fosgate 3Sixty signal processor. Thanks to this processor we able to perfectly tune the sound for it to suit the car's acoustic conditions. What is even better all the installation work was done the way that most of the trunk space can still be used for its original purpose.  
First of the amplifiers is RF T600-4 a four-channel one. It powers  the front component system RF T162S and speakers installed in the back (also RF T162S)  The other amplifier RF T1500-1bd is a digital monoblock responsible for powering two subwoofers P3D212. Two thirty centimeter-diameter speakers were built into special 30 litre boxes. To take up a challenge offered by the subwoofers special measures had to be taken. To do that the strongest full-range Rockford Fosgate speakers were used and the entire interior was revamped by putting in a dumping mats.
Ready to roll, Duster headed for the USA the most competetive car market, where it will proudly represent Poland and Europe during multiple car shows and competitions. We can't wait to see the results as we're sure that this car and its power are much more than just a perfect dream.
About Rockford Fosgate
Setting the standard for excellence in the audio industry, Rockford Corporation markets high-performance audio systems under the brand Rockford Fosgate® for the mobile, motorsport, and marine audio aftermarket and OEM market. Headquartered in Tempe, Ariz., Rockford Corporation is a wholly owned subsidiary of Patrick Industries, Inc. (NASDAQ: PATK).