Rockford Fosgate Gets Personal with PUNCH PLUGS In-Ear Monitors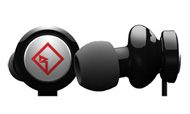 Rockford Fosgate introduces PUNCH PLUGS In-Ear Monitors that takes legendary Rockford Fosgate PUNCH sonic signature and puts it right in your ears.
"As we celebrate our 30 year anniversary, we're introducing new products that not only extend the Rockford PUNCH into the personal audio market but we think will redefine it.   PUNCH PLUGS feature a massive 15mm driver that has allowed us to produce an ear bud style headphone with all of the characteristics of the Rockford Fosgate PUNCH sonic signature, big bass and industry leading SPL levels" says Sr. Marketing Manager David Slepak.
Over two years in development, Rockford Fosgate's acoustic engineers worked diligently to deliver the premium audio performance found in Rockford's high-performance amplifiers, subwoofers and full-range loudspeakers. PUNCH PLUGS are true to Rockford's heritage in car audio.
 "We're serious about the personal audio category, these aren't some rebadged units like what some manufactures are dumping into the marketplace.  Customers expect more from Rockford Fosgate, so we had to create a product that was not only unique in the category but authentic to the Rockford Fosgate brand," explains Bill Jackson Rockford Corporation President.
 Bigger is Better.
Class leading 15mm DYNAMIC DRIVER delivers massive bass response, ultra accurate mid-range and crystal clear highs.
Get Loud.
PUNCH PLUGS massive 15mm driver with a low impedance design and PUNCH EQ tuning combine for an industry leading SPL (Sound Pressure Level) of 115db.  The in-ear monitors will not distort at the highest listening levels. 
Designed for Comfort.
Includes multiple COMFORT PLUGS to ensure a custom fit for every ear.  Superior noise attenuation keeps the PUNCH IN and the WORLD OUT.  Finally enthusiasts can get loud without fear of disturbing the peace. 
Tangle Free Flat Cable Design.
·         Low friction jacket reduces mechanical noise
·         Integrated y-splitter with length adjustment
·         3.5mm low profile ergonomic connection 
Rockford Fosgate PUNCH PLUGS have a retail price of $99 and are available at Authorized Rockford Fosgate Dealers and on-line including Amazon.com

Punch Plugs:  Punch Plugs Product Details
Contact:  David Slepak • 480.444.3237 • [email protected]

---
Rockford Corporation is a designer, marketer and distributor of high-performance audio systems for the mobile audio aftermarket, personal audio, professional audio and for the OEM automotive, marine and trailer applications. Rockford's mobile audio products are marketed primarily under the Rockford Fosgate(R), Rockford Acoustic Design(TM) and Lightning Audio(R) brand names Rockford's primary brand websites include: https://rockfordfosgate.com, http://www.rockfordacousticdesign.com, and http://www.lightningaudio.com and http://www.installedge.com.
About Rockford Corporation
Setting the standard for excellence in the audio industry, the Rockford Corporation markets and distributes high-performance audio systems for the car, utv audio, and marine audio aftermarket and OEM market. Headquartered in Tempe, Ariz., Rockford Corporation is a publicly traded company and manufactures or distributes its products under the brand: Rockford Fosgate(R). For more information, please visit: rockfordfosgate.com.