Rockford Fosgate Gets "Indecent" in Mazda Astina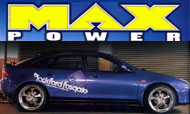 Leon Lamprecht, with his "RF" tatoo on his back, recons Rockford bits are awesome not only because they look good and deliver maximum sound quality, but also because the brand is just out of reach for the ordinary Bloemfonteiner.
To say that Leon thinks Rockford Fosgate is the shizz would be the understatement of the millennium.
System Overview:
Rockford Fosgate RAVDVD source unit
(4) Rockford Fosgate P1 subwoofers
(2) Rockford Fosgate T3002 amplifiers
Rockford Fosgte Power splits
Rockford Fosgate Power coaxials
Rockford Fosgte 25-Farad carbon capacitor
Rockford Fosgte 1-Farad digital capacitor
Download PDF to read complete article.
About Rockford Corporation
Setting the standard for excellence in the audio industry, the Rockford Corporation markets and distributes high-performance audio systems for the car, utv audio, and marine audio aftermarket and OEM market. Headquartered in Tempe, Ariz., Rockford Corporation is a publicly traded company and manufactures or distributes its products under the brand: Rockford Fosgate(R). For more information, please visit: rockfordfosgate.com.